Optibelt Omega Fan Power Stronger Than Standard Timing Belts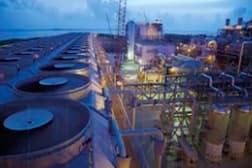 The oil industry places extreme demands upon fan drives, long service life load, maintenance, coupled with a high level of power transmission and non-sensitivity to external influences such as temperature fluctuations and moisture, are required without compromise.
Optibelt's Omega Fan Power timing belts satisfy these needs and more.
Manufactured specifically by air-cooled heat exchanges or in fin fans in the oil and gas processing industry, the Omega Fan Power is wear resistant, maintenance free and features a level of power transmission, 150 percent greater than standard Omega rubber timing belts.
The special tooth form, constructed using aramid fibres, to ensure the Omega fan power has strong shield resistance, provides up to 18 times the service life of a standard rubber timing belt.
The optimised tooth shape means the belt operates at significantly reduced noise levels in timing belts within sufficient electrical conductivity; electrostatic charges carry a risk of ignition around sparks.
The Omega Fan Power mitigates that risk with its electrical conductivity, and each belt comes with its own individual certificate to prove its anti-static capability in accordance with ISO 9563.
To learn more about Omega fan power contact Optibelt on 03 8791 2700 or visit them at www.optibelt.com