Published 19-10-2021
| Article appears in November 2021 Issue
Opposition Leader Anthony Albanese Visits DECO Manufacturing Facility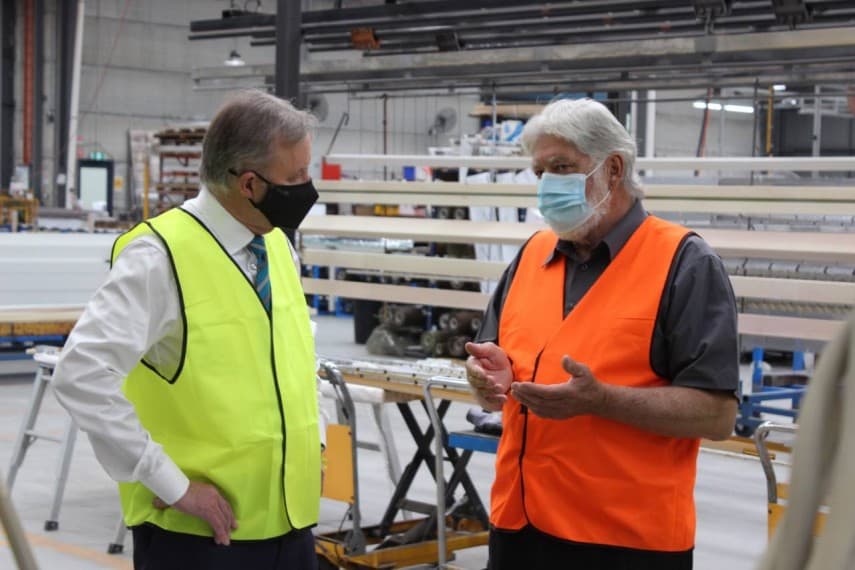 Federal Opposition Leader Anthony Albanese visited leading Australian manufacturer DECO Australia recently.
The Opposition Leader visited DECO to learn more about the company's innovative manufacturing, processes and products, as well as to discuss issues faced by Australian SME manufacturers today. DECO Australia has been manufacturing leading architectural building products and finishes since 2004, and has since expanded to provide industrial finishing services for the defence, engineering and food processing sectors.
This visit was an excellent opportunity for DECO to highlight the innovations in its business, and showcase how they are leading the way for Australian manufacturers to tread new ground, build and create new concepts and ideas over time and continually improve capability to serve priority Australian industry sectors.
Mr Albanese's visit also sparked a fruitful conversation surrounding some of the common issues faced by Australian manufacturers, including Innovation Patents and other IP protection, industry support for research and development and the difficulties faced by many SMEs surrounding involvement in defence procurement. "We were delighted to have the opportunity to show Mr Albanese just what DECO can do," said DECO director Ross Doonan.
"Manufacturing is the beating heart of Australia, and it's encouraging to be able to have conversations with our government officials about how they can better support Australian manufacturers in bringing innovative solutions to the table.
DECO is committed to championing Australian government involvement with local Australian businesses to build a stronger economy supported by sovereign industry capability.
To find out more about DECO's Australian-made products and finishing services, visit www.deco.net.au/ or call 02 9603 1888.
About DECO Australia DECO Australia have been leading the way in architectural innovation for 17 years and are famous for their premium timber-look finish for aluminium, DecoWood®. DECO offer a range of cutting-edge aluminium building products for the architectural market, including cladding, battens, decking and floorboards, as well as a variety of Super DurableTM finishes including concrete-look, rust-look and anodised finishes. DECO recently unveiled their new Innovation Centre in Minto, New South Wales, where customers can visit to discuss their projects and see DECO products and finishes in the context of a building.
For more information visit www.deco.net.au