OPPOSITION TO GRILL TASMANIAN ENERGY MINISTER
07-03-2016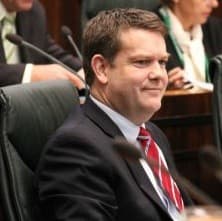 Opposition parties will both be focusing their attention on Tasmanian Enegry Minister Matthew Groom, when parliament resumes for the first time after the massive electricity cable failure before Christmas.
During the failure Tasmania unable to get its power from Victoria, and the dam's being at an all time low, the government has needed to being in 24 diesel generators.
The minister is hoping to deflect attacks from both the Greens and Labor by presenting a statement on the energy situation.
"He will outline the challenges that Tasmania is facing through unprecedented issues through lack of rainfall and of course the Basslink cable," Government Minister Michael Ferguson said.
"That will be an important opportunity for the Government to outline what that [energy security] plan consists of, how Tasmanians can be confident in their energy security and most importantly to build renewed confidence in this sector."
Mr Groom is expected to be questioned thoroughly once the motion of no confidence against parliamentary speaker Elise Archer.
Opposition Leader Bryan Green has indicated that he wants the Energy Minister to confirm whether or not the Royal Hobart Hospital and Launceston General Hospital had access to back up power, saying that Tasmania could be "de-Industrialised" if the crisis is to continue.
Greens Leader Cassy O'Connor has said that the Ministers handeling of the portfolio is "nothing short of inept"
"There are serious questions about Mathew Groom's competence as a minister," she said.
Mr Ferguson has said the Government was dealing with it well.
"The Government has been dealt some very challenging circumstances ... in the face of that, the Government has a plan, we have an energy supply plan," he said.
On Wednesday, Premier Will Hodgman will deliver the annual State of the State address.
On Thursday, Human Services Minister Jacquie Petrusma will deliver a ministerial statement detailing the "redesign" of the Child Protection System.