IS ONSHORING THE FUTURE OF AUSTRALIAN MANUFACTURING?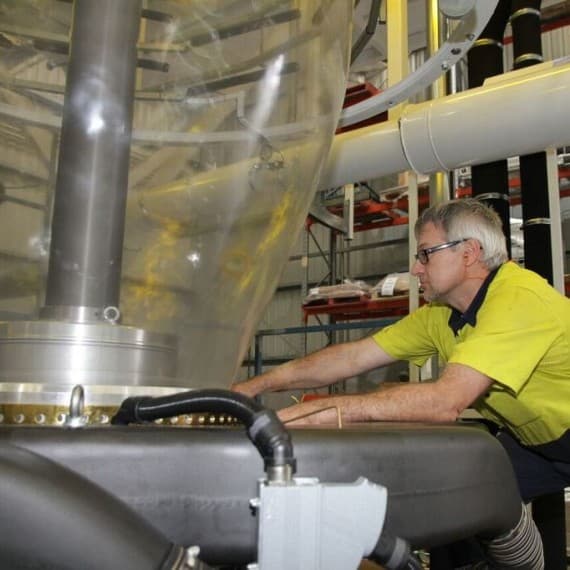 Meet Jack Winson, the Signet CEO bringing jobs home.
Brisbane-based manufacturer and supplier Signet is making a multimillion dollar investment to bring manufacturing from Asia to Australia, in a move that may be a catalyst for Australian firms to consider the viability of "onshoring" – a trend that's already taken off in the USA.
Recognised as a leading national supplier for packaging and industrial needs, Signet saw an opportunity for domestic production to meet growing customer demand for plastic films and bags with shorter lead times and smaller production runs.
To satisfy these needs, Signet purchased a $2 million Italian-made Macchi machine that nearly tripled its domestic polyethylene capability for packaging and agricultural customers, from 1,700 to 5,000 tonnes annually.
The move comes after the company reassessed the merits of onshore production in response to a fall in the Australia dollar.
In addition to the benefits for Signet and its customers, the decision is a win for the community. The reduction in shipping will yield environmental benefits, and local production will create Australian jobs.
There is reason to be hopeful that Signet's move could become a broader trend that will counter decades of offshoring, which to date has faced no substantial market-based challenge within Australia.
Australia's manufacturing job numbers have been falling for decades. Some of the decline is attributable to labour-saving technology, but much has gone offshore for cheaper labour costs.
The trend of "offshoring" – sending work overseas – has hit manufacturing across the developed world, including Australia, Europe, North America and, more recently, Japan.
The human impact of offshoring is a hot-button issue. In developing countries, offshoring helped billions of people escape deep poverty, but domestically it made life harder for less competitive businesses, and for their workers and local communities.
Notwithstanding the human impact, most offshoring has been inevitable. It's just not feasible to compete with Asia on cost for repetitive manual labour.
On the positive side, global competition has steered Australian manufacturing towards its advantages, for example producing automated work and meeting specialised local requirements, such as flexibility and fast turnarounds.
Given these advantages, it is worth considering whether Australian businesses are striking the right balance between offshore and onshore production.
In the relentless hunt for bargain-basement prices, is it possible that some firms went overboard and overlooked other factors? Moreover, might automation level up the cost playing field?
In the USA, a growing number of firms believe the answer to those questions is "yes".
Since emerging from recession in mid-2009, American manufacturing has undergone a renaissance, with output growing by more than 20% according to Federal Reserve data. Part of this growth has been brought about by onshoring.
According to the USA's Reshoring Initiative, more than 265,000 jobs across hundreds of businesses were brought onshore from January 2010 to July 2016.
The movement of work onshore came from some of America's most renowned companies.
In 2010, GE Appliances announced the return of hybrid water heater production from China, reopening a Kentucky plant that had been dormant for 15 years. The relocation came after the company found that a 30% Chinese cost advantage became 6% more expensive after considering inventory and delivery problems. GE followed up this success with other domestic initiatives, all up creating around 1,300 jobs over four years.
Motivated by branding and social responsibility, the shopping giant Walmart launched a huge program to promote onshoring from its suppliers. No fewer than 38 companies signed up, reportedly creating more than 4,444 American jobs.
Perhaps the most iconic case of onshoring was GM's 2014 return of Cadillac SRX production from Mexico, investing $185 million on a new plant in Tennessee and employing 3,000 workers. The relocation followed a deal with the union allowing for greater pay flexibility.
-Other considerations that prompted American businesses to onshore include:
-flexibility and responsiveness
-shipping time and costs
-offshore risks to intellectual property
-quality control
-proximity to raw materials
-improvements in domestic efficiency through labour-saving technology or lean manufacturing principles.
To be sure, American manufacturers have certain advantages over their Australian counterparts, for example the scale of the domestic economy and relatively pro-employer industrial relations.
According to Mr Innes Willox, Chief Executive of Australian Industry Group, US manufactures have benefited from falling energy costs in recent years, but "in Australia energy costs have been rising, not falling." Most importantly, Australian manufacturing is chronically vulnerable to fluctuations in the dollar.
These factors have contributed to Australia's lack of onshoring to date, and will undoubtedly remain a constraint in the future.
But while Australia may never experience US-style mass-scale onshoring, Signet's example shows it can be the right strategy for certain businesses, in certain circumstances.
Signet's decision to onshore is built on a wealth of experience. Founded in 1968, Signet is a national enterprise with sales and distribution centres in all capital cities. After considerable growth in recent years, Signet employs more than 300 staff.
To learn about Signet's onshoring, I spoke to company CEO Mr Jack Winson.
Mr Winson's father founded Signet, and after spending much of his life surrounded by the firm he knows the business and market inside out. "The day after graduating university I came straight into the business and have worked in all departments," he said. He ran Signet's sister business insignia for about 15 years before moving to the group CEO role.
Mr Winson has observed a change in the market in recent years, with customer preferences increasingly geared towards shorter wait times and smaller production runs.
"Production batch sizes are reducing and the pressure on reducing lead times is increasing," said Mr Winson.
"With local production we can turn something around in a few days – offshore that would take months."
"Manufacturing here in Brisbane means we have control, ensuring a consistently high-quality product that meets our clients' needs, and the flexibility to ensure we can meet the most challenging deadlines."
According to Mr Winson, customers are showing a "a significant amount of interest" in the new capability.
Mr Winson said he wasn't yet aware of any other firms onshoring. "For decades it's all been the other way around," he said.
Mr Winson believes that some industries and competitors have engaged in "manufacturing tourism" because they placed too much weight on labour costs. For the specialised production Signet is moving onshore, labour costs are small relative to total costs. When all factors are considered thoroughly, "Australian manufacturing can stack up," he said.
Although Mr Winson thinks onshoring is unlikely to become a large movement, he can "certainly" envisage more of it.
"It all depends on what the customers are looking for, whether responsiveness is critical. If they need to get a product to market quickly, onshore manufacturing is the only way."
Mr Winson cautioned that companies thinking about moving production onshore should carefully analyse viability against possible upward movements in the dollar, a risk that "makes planning and investment for onshore production quite challenging."
"Some people thought the dollar would move down to around 55 cents US. If that were the case, I think we'd see a real trend to onshoring. But it's currently around 75 cents, and that's about the long-term average. At this level it may still not be worthwhile for many manufacturers."
It remains to be seen whether onshoring will catch on in Australia, but there are positive signs according to the Australian Industry Group.
"Yes, manufacturing is increasing again as evidenced by our PMI (Australian Performance of Manufacturing Index™) being above 50 points and indicating expansion for the last 12 months," Mr Willox said.
"This is mainly due to the lower dollar, good growth in food-related demand and the strong housing cycle."
Can the government promote onshoring? Mr Willox says that while the government's hands are effectively tied on the dollar, investment in innovation can help grow the "speed, flexibility and customisation" and "high value at low volumes" needed by industry to overcome Australia's disadvantages.
"Governments can foster advanced manufacturing in many ways, including by helping and encouraging innovation collaboration between universities and business."
Other critical policy areas are workplace relations and taxation, but these are heavily debated, Mr Willox said.
"The reshoring debate can cast a new light on these policy arguments: the change in manufacturing is not all one way, and the rewards to good economic policy can be substantial."
Signet's Mr Winson said that the policy focus should be on improving competitiveness, for example by reducing taxation.
"Payroll taxes are the big one. Five percent might not sound like much, but on top of onshore labour costs that are already considerably more expensive, it adds up to a burden that will inevitably keep jobs offshore," Mr Winson said.
Given the inherent limitations of Australia's economic and policy framework, it's overstating the case to call onshoring the future of Australia manufacturing.
But Signet shows it can be a viable strategy for businesses with specialised requirements, particularly with a low-to-mid range value dollar.
With some improvements in Australian policy, hopefully we'll start to see more of it.