ONLY TWO DAYS LEFT AT AUSPACK 2017
08-03-2017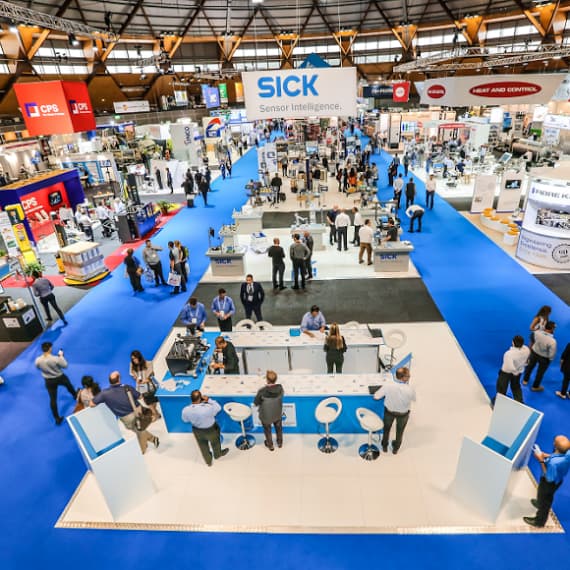 The doors are open at AUSPACK 2017, but there are only two days left of Australia's most innovative event for the processing and packaging industry, held at the Sydney Showgrounds.
Anne-Marie Mina, organiser of AUSPACK, said, "This is the biggest Sydney show ever in terms of number of exhibitors. The quality of visitors is very high and exhibitors are extremely happy so far."
"We have more than 100 international exhibitors who are launching their products in the Australian market here. Such broad exhibitor offerings gives visitors a wide choice, enabling them to see the latest global technologies in their sector and find the perfect solution for their business. Anecdotal comments from visitors have shown that they are extremely impressed with the products and solutions on offer right across the show floor."
International exhibitor Schur Star Systems, a packaging-systems company from Denmark, showed its flexible packaging solutions.
The key to the globally unique Schur Star system is that a multitude of different flexible pouch sizes and styles, in different print and laminate structures, can be run through the packaging system with very quick changeover times; for example, changing from a 400- millimetre wide pouch to a 100mm wide pouch takes just five minutes.
The system has application across a range of industries including fresh produce and meat.
UK-based Woolcool showcased its range of eco-friendly, insulated packaging products. The highly effective packaging, which is used for both food and pharmaceuticals, is made from coarse sheep's belly wool, which is essentially "waste wool", and has 25 per cent Australian content.
Woolcool packaging sits in a carton, enveloping chilled or frozen product; the carton is chilled down and ice packs added on top. Woolcool is guaranteed to keep product at less than five degrees Celsius for 24 hours or more. One of its biggest applications is the online grocery trade.
Mina said that "these are just two examples of the thousands of technologies on display at AUSAPCK 2017. Their difference and cost benefits offer much value to the Australian market, and are among the reasons visitors find AUSPACK so informative."
Mina said the livestreaming videos on AUSPACK's Facebook page, showcasing suppliers talking about the benefits of their solutions, have been very popular. "They are a great way for visitors to quickly see what's on offer, and discover additional information."
Mina urged visitors to make sure the most of the last two days of AUSPACK 2017, with doors opening at 9am on Thursday 9th and Friday 10th of March.
"So far, AUSPACK 2017 has provided opportunities to see thousands of processing and packaging innovations, engage in education and training and enhance networking opportunities. Make the most of the last two days of this exciting event!"
AUSPACK
02 9556 7993