ONLINE TOOL KEEPS WATCH OVER COMPONENT OBSOLESCENCE
10-01-2017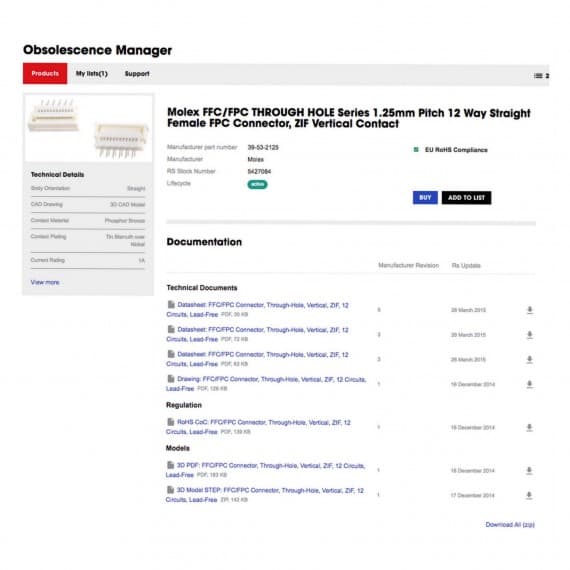 RS Components has enhanced its website with a novel tool that can help designers and manufacturers manage the problems associated with component obsolescence.
Each year, EOL (end-of-life) notices are placed on thousands of electrical, electronic and automation components that will soon cease to be produced or supported by component vendors. These notices can cause considerable problems for manufacturers whose products contain these components, usually entailing redesigning or re-engineering the end product.
The search for a viable replacement component can be time consuming, and in most cases the replacement part will need to be at least as good as the original in terms of specifications such as footprint, connections, power consumption and heat dissipation, to name but a few criteria.
Enter the RS Obsolescence Manager. This free-of-charge component-lifecycle risk-assessment tool is specifically designed to help engineers and purchasing managers to monitor and manage the risks caused by obsolescence. Initially the tool has been designed to support engineers creating new electronic designs. Later versions will cover the industrial sector including new panel designs and existing production-line machines.
The tool provides a wide range of information including product lifecycle status. This ranges from active to obsolete, and includes categories such as NRFND (not recommended for new designs) and LTB (last time to buy). It also includes an estimation of YTEOL (years to end of life). In conjunction with this status, the tool also lists parts that are alternative products in form, fit and function, as well as whether they are direct or similar replacements.
The tool's component database will have access to 400,000 products available from the core and extended RS range, including semiconductors, passives, connectors, relays, power supplies, switches and many other electronic and electrical devices. A further 160,000 products are expected to be added by mid 2017. The dataset will also match with three million direct alternative products and 70 million functional and similar devices. The database will be updated on a monthly basis with changes logged in the system.
The RS Obsolescence Manager is available now via the DesignSpark website.
RS Components
1300 656636
au.rs-online.com