Published 26-05-2020
| Article appears in June 2020 Issue
ONLINE HYGROMETER OFFERS FAST RESPONSE AND GREATER FLEXIBILITY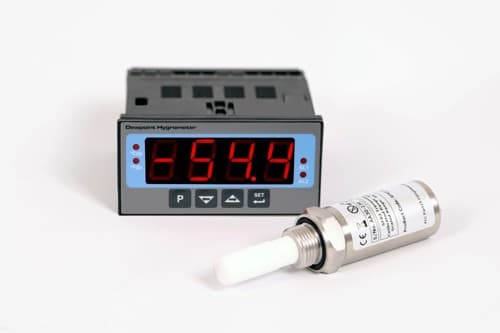 Michell Instruments' new SF82 Online Fast Response Hygrometer offers more choice and flexibility for dew-point and trace humidity measurements.
Available now from AMS Instrumentation and Calibration, the SF82 was designed by Michell as a fast-response, quick-to-install hygrometer system that covers the complete dew-point measurement range of -60 degrees up to +60 degrees C dew point.
The SF82 is ideal for use in industrial drying applications such as compressed air and plastic manufacturing thanks to an advanced thick-film moisture sensor, developed by Process Sensing Technologies, which provides fast, reliable measurements of low dew-points even in high ambient temperatures.
It's also the perfect complement to the popular Easidew Online Universal Dew-Point Hygrometer, which covers the dew-point measurement range of -110 up to +20 degrees C dew point.
The wide measurement rage is especially suited to applications that require measurements at the drier end of the scale, including additive manufacturing or monitoring controlled environments in glove boxes.
The SF82 incorporates Michell's latest ceramic metal-oxide technology, and provides stable, reliable and repeatable moisture measurements.
Both the SF82 and the Easidew include as standard a two-wire sensor, configurable display with 1/8 DIN mount format, RS485 digital communications, a stainless-steel sensor sample block with 1/8-inch NPT inlet and outlets, and a selectable-length sensor cable.
Manufactured for reliable, high-volume supply and supported globally by Michell's service centres, the SF82 and the Easidew are attractive options for OEM.
AMS Instrumentation & Calibration
03 9017 8225
www.ams-ic.com.au