ONLINE CONFIGURATOR MAKES POWER CHAIN SPECIFICATION FOOLPROOF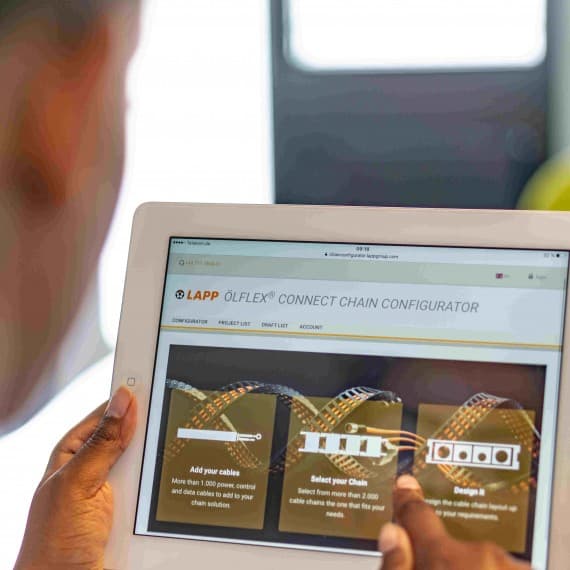 Lapp is encouraging power chain users to take advantage of its Ölflex Connect Chain system with the release of an online configurator that will enable users worldwide to specify complete system solutions. The new Ölflex Connect Chain configurator enables users to engineer a power chain digitally online with just a few clicks of the mouse.
The digital Ölflex Connect Chain configurator takes a step-by-step approach to guide the user through the choice of drag chain, cables and appropriate accessories. When the configuration is complete, the customer is sent an individual quotation.
Importantly, the configurator makes sure all the components are compatible at each stage of the process, thereby eliminating the most common sources of error. It also ensures that the all-important bend radius of the cables is compatible with the bend of the specified drag chain.
Cables are selected based on the travel distance, acceleration, temperature profile, shielding and other parameters. The configurator automatically excludes cables that are not suitable for the application. If required, it can position separators and shelves and makes sure that the weight of the cables is evenly distributed in the power chain.
Finally, the customer is given the option to purchase the power chain fully assembled from Lapp or to receive it as individual components, with the further option of having the cables pre-cut to the appropriate length.
Fully assembled power chains come with the additional assurance that the whole assembly has been 100% tested at the factory.
The Ölflex Connect Chain configurator can be accessed here.
Lapp Australia
1800 931 559
www.lappaustralia.com.au