ONE OF THE MOST POWERFUL ELECTRIC FORKLIFTS IN ITS CLASS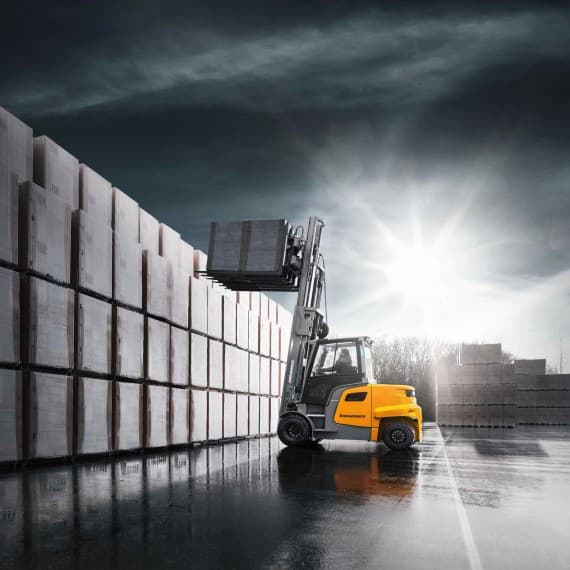 Jungheinrich's EFG 6 series of electric forklift trucks is one of the most powerful in the intralogistics market, carrying up to 9t at a load centre of 900mm, and is suitable for both indoor and outdoor use in beverage and building material wholesaling or mechanical engineering. With the EFG 6 series, being launched in 2019, Jungheinrich is complementing its five series of electric counterbalance trucks.
"From now on the motto will be: big, bigger, EFG. Our EFG 6 series brings concentrated power and maximum efficiency to our customers' warehouses and handles even the toughest jobs," says Christian Erlach, Jungheinrich's board member for marketing and sales. "With a 9 tonne load capacity, the EFG 6 series sets new standards. For our customers, this means maximum performance with minimum consumption."
The EFG 6 is available with both superior lithium-ion and proven lead-acid battery technology. Its two asynchronous drive motors and two synchronous reluctance lift motors deliver maximum power with minimum consumption. With its heavy-duty hydraulic block, the electric counterbalanced truck promises maximum performance even with heavy attachments. For the demanding customer requirements in this sector, the series comes with the drive&liftPLUS service package as standard.
Jungheinrich offers the EFG 6 in 14 models, thereby offering the largest portfolio in the high-performance forklift segment. Four different capacities of 6 to 9t, two load centres (600 and 900 mm) and battery sizes ranging from 1240Ah to 1548Ah allow the truck to be adapted and fine-tuned to any customer requirements. The standard version with a long wheelbase absorbs all bumps and ensures a high level of comfort. The compact versions are shorter and more agile than anything else on the market.
The use of modern lithium-ion technology significantly reduces energy consumption compared to lead-acid batteries. With the option of intermediate charging and maintenance-free operation, the lithium-ion battery powered EFG 6 can be used almost non-stop. At the same time, all the power is fully available, over a very long service life.
The EFG 6 is equipped for tough outdoor use, and can penetrate areas that were previously the sole domain of internal combustion engine forklifts. To do this, it has a full cabin with air conditioning. The laterally movable driver's seat, which is unique among forklifts of this type, sets new standards in terms of ergonomics.
All-round visibility is guaranteed by the addedVIEW assistance system. From four cameras, the operator obtains a 360° view directly on a display, increasing safety and allowing for operation in confined spaces. In the event of critical danger areas in the warehouse, zoneCONTROL intervenes and automatically gives the operator a warning signal.
Jungheinrich
08 8243 1222
www.jungheinrich.com.au