ONE DRIVE POWERS TWO TORQUE WRENCHES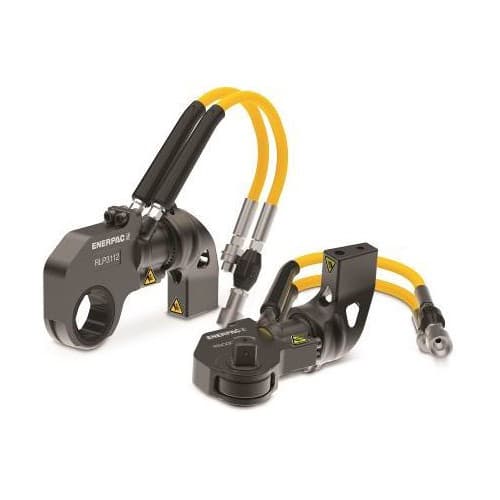 Low-profile RSL torque wrench combinations from Enerpac simplify bolting and improve productivity by using one rugged drive to power both hexagon and square drive hydraulic torque wrenches. The safety-oriented design, which completely encloses all moving parts and minimises pinch points, eliminates the need for separate hydraulic drives when using hex and square heads.
The RSL's 30-35 degrees of operating stroke provides added productivity while also saving time by avoiding the problem of tool lock-on, says Enerpac Regional Bolting Leader Andrew Marsh.
The RSL drives with RLP hex and RSQ square drive cassettes set new standards in simplicity, performance and safety. Their design incorporates extensive experience on some of the world's most rugged, remote and demanding resources, construction and industrial, energy and infrastructure sites. All are backed by Enerpac's national service and technical support networks to ensure optimum availability and production uptime.
The features of the range include a simple, robust alloy steel design with just three moving parts for reduced maintenance, robust handles for both sides and tops of cassettes to allow extra manoeuvrability, and optimum strength-to-weight and torque-to-weight ratios. A wide range of sizes is available in interchangeable cassettes for broad applications, and the reaction arms have a simple dial-up lock for rapid changeover.
"A big plus of the RSL series is that they share the rugged design and comprehensive backup for which Enerpac is widely respected, as well as being part of comprehensive range of Enerpac professional bolting technology from the one convenient source, all with global standards of reliability, safety compliance and traceability," says Marsh.
The series is complemented by Enerpac's broader range of non-impact professional bolting technologies, including market-leading S and W torque wrenches, and one of the world's most comprehensive ranges of pump technologies. These include system-matched electric, air and petrol-powered types as well as the new XC series cordless torque wrench pumps, which are ideal for remote locations, sites that do not have access to power or where having electric cords could cause trip hazards, such as maintenance workshops.
Enerpac Australia
02 8717 7200
www.enerpac.com