OMRON SIGNS PARTNERSHIP DEAL WITH LEADING AUTOMATION SOLUTIONS PROVIDER
13-06-2015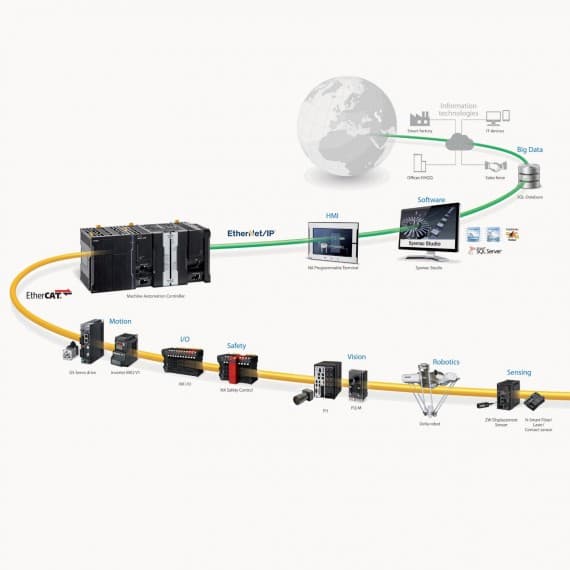 Omron, a global leader in industrial automation, has signed a new partnership agreement with Alliance Automation to supply cutting-edge automation equipment over the next two years.
Queensland-based Alliance Automation provides quality process control systems, data management systems and electrical design to a broad range of clients across Australia.
The company specialises in supervisory control and data acquisition (SCADA) and process automation.
Under the new two-year agreement, which took effect from May 28, Alliance Automation has signed on to Omron's preferred Integrator Partner Program, with a view to broadening its footprint in the automation market.
"This will open the door for new opportunities for both companies," said Mr Paul Gibb, Omron's State Manager for Queensland, who brokered the new deal with the assistance of Omron's Business Development Manager, Adrian Gunner.
"With Omron's unique offering, both parties are hopeful of getting new business and expanding a number of existing automation projects, Mr Gibb said. "This includes infrastructure, food and beverage, oil and gas and mining sectors."
As part of the agreement the Omron team will work closely with Alliance Automation engineering and business development staff to ensure both companies receive maximum benefit.
Omron is expected to supply its latest technology, including the Sysmac Automation Platform, a fully integrated platform featuring one software, one control and one connection.
Other products to be supplied include drives, inverters and industrial control devices.
"Alliance Automation is most interested in these technologies, all of which are aimed at increasing productivity and reducing costs," Mr Gibb said. "The company recognizes the value Omron technology can bring."
Omron will also provide expert training for Alliance Automation management and staff. Key staff members have already completed Omron's training and accreditation program.
"And we will provide on-going training on Omron solutions to ensure Alliance Automation engineers have the skills and knowledge needed," said Mr Gibb.
"Omron has a proud history of working successfully with its business partners – loyalty is a key element in our business model."
The agreement is the culmination of 12-months of negotiation.
Mr Chris Cooney, General Manager, Alliance Automation, signed the agreement in Brisbane last week with Omron executives Paul Gibb and Adrian Gunner (Business Development Manager QLD).
Mr Cooney said: "Collaboration and partnership with a key global leader like Omron is fundamental to our strategy. Together we are much better placed to deliver value adding solutions and continued support to our customers."
Omron Electronics
Ph: 1300 766 766
Alliance Automation
Ph: 07 3899 9980
www.allianceautomation.com.au