OMRON ROBOTICS EXPERT VISITS AUSTRALIA TO SHARE KNOWLEDGE
19-08-2015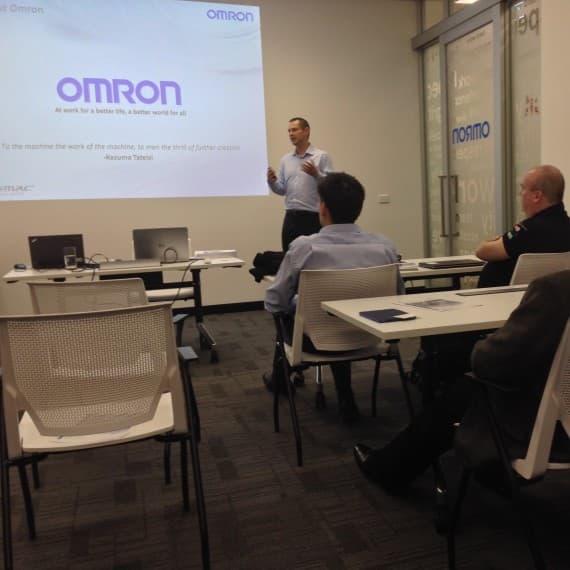 Omron's Global Product Marketing Manager for robotic products, Mr Eduardo De Robbio visited Australia for the first time last month to discuss global trends.
He was joined by Mr Vivekanand Patil, a Senior Manager from the Automation Centre in Omron's regional headquarters in Singapore.
They spent three days in Melbourne, sharing their knowledge and know-how with Omron staff and customers.
Omron specialise in integrated control solutions for machines, where robotic control is combined with the rest of the manufacturing process.
The robots are typically Delta-3R or Delta-2 planar type, with up to four degrees of freedom.
The integrated platform uses one NJ controller, which uses EtherCat to link to a host of field devices, including vision systems, I/O and drives used in robots and elsewhere.
Each NJ controller can handle up to eight robots.
During a special presentation to Omron staff Mr De Robbio unveiled a five-year development roadmap for automation and robotic products.
Omron's programming philosophy for controllers has always been to use ready-made Function Blocks (FBs) to abstract difficult to understand details, like kinematic transformations, away from the programmer.
The latest innovations in FBs, as well as other facilities for user-defined coordinate systems, transition modes and blending algorithms were demonstrated.
These improvements will support ever greater functionality in robotic control, and development in these will continue for the foreseeable future.
During the visit, a two-part customer seminar entitled: Robots: a Global Trend in Packaging Industries was conducted.
Omron's capabilities and product offerings were outlined in the first part.
The working envelope of robots now ranges from 450 to 1600mm, payloads between 1-8kg and protection ratings vary from IP65 to IP69K (food grade hygiene).
Advances in vision systems were also discussed.
As well as playing a key role in product quality inspections, vision systems are a vital component of any robotic system for conveyor tracking and the like.
They're considered the "eyes" of the robot system!
While most robots are used in industrial installations such as food, palletising and packaging industries, applications outside these traditional areas are being uncovered, such as fruit sorting.
"There's no reason these applications can't be done now," said Mr De Robbio, "all that's needed is a special gripper mechanism that can handle delicate and irregular shapes such as fruit. We're talking to several potential suppliers now."
The second part concentrated on applications, and showed how Omron systems work together.
A wide range of European success stories were presented. Europeans are among the world's leaders in robotic technology, with some very cutting-edge applications.
Two actual robots were on exhibition and many videos were shown of working applications, for potential robot users in Australia to draw inspiration from. It is hoped the use of robots will enhance productivity throughout industry.
According to Mr De Robbio, while robots are becoming more ubiquitous, the controller remains the key, which must be integrated with the rest of the production process.
Robots do not work in isolation, and the incorporation into the rest of the control system has hereto been difficult.
On the last day, Mr De Robbio and Mr Patil visited several customers with integration capabilities for advanced machinery and robot cells.
"I really love visiting actual customers and seeing Omron product used to create advanced machinery," said Mr De Robbio. "I enjoy hearing their stories and even pain points, so we know how to help our customers and ultimately, how to develop our products to better suit their requirements."
Omron is committed to the professional development of both their staff and customers to ensure their products are used to their maximum potential.
Omron Electronics
Ph: 1300 766 766