OMRON PUSHES SYDNEY ENGINEERING TO NEW HEIGHTS
14-09-2017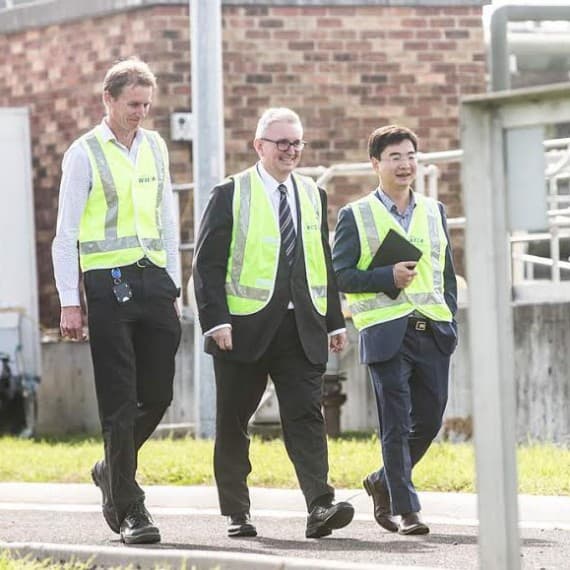 Sydney Water Energy Manager Phil Woods and Energy Minister Don Harwin visit the world-first plant.
DEXA Solutions is a small Australian company with a big vision.
Its founder Matthew Wall, an electrical engineer, has supplied control systems for some of the biggest projects in NSW – each with their own complexities and challenges. Based in Northern Sydney, DEXA Solutions specialises in industrial control systems, including installation, maintenance, design and programming.
The company is a preferred system integrator for several high profile control system suppliers. DEXA Solutions services a growing number of industries including defence, water treatment, food & beverage, packaging, manufacturing, gas plants, power stations and substations, press industry, airport ground support and freight handling equipment.
Notable projects include the Sydney Harbour Bridge Maintenance Cranes Control System Upgrade, and Centre Point Tower Skywalk.
In nearly all of its major projects DEXA Solutions chooses Omron, a global leader in automation, as a preferred supplier. In May last year, DEXA Solutions played a key role in an innovative research project at Shellharbour, near Wollongong, to turn food waste into energy.
Turning beer into power
The world first project between Sydney Water and the University of Wollongong (UOW) was officially opened by NSW Minister for Energy and Utilities Don Harwin.
Through a process called anaerobic co-digestion, food waste is blended with sewage at Sydney Water's Shellharbour Wastewater Treatment Plant and the mixture is then converted into methane gas, a renewable energy source.
"The first stage of the research is using waste from beverage production and turning into additional energy, so the project is basically turning beer, wine and soft drink waste into power," said Harwin. Households and businesses in Sydney and the Illawarra will be the main beneficiaries.
Adding food waste to the wastewater treatment process provides many benefits including:
More power is able to be generated by the co-digestion process through additional biogas production  
Food waste is diverted away from landfill and greenhouse emissions are reduced
Producing green energy at the Plant keeps the operation costs of the treatment plant lower, which in turn puts downward pressure on water bills for customers.
DEXA Solutions was chosen to design, install and commission a control system for this ground-breaking project – and once again, Omron came to the fore. To successfully complete the project, Omron supplied the following system:
Omron CJ2M PLC, Omron NX Ethernet/IP IO module, two Omron 3G3MX2 Variable Speed Drive controllers and Omron SCADA CX-Supervisor running on an Advantech 15" Fanless PC.
The system controls:
13 motors
2 heaters
2 Omron Variable Speed Drives
10 Motor Driven Positioning Valves
5 Analogue Pressure Sensors
5 Flow Meters
2 Analogue Temperature Sensors    
"The system was developed over several months before being installed," said Mr Wall. "Omron provided the most effective and smart solution in that configuration for the price."
"I've used nearly all brands of PLCs over many years – and Omron is one of my favourites. The Omron PLC's offer some of the most advanced control on offer yet they are efficient, easy and quick to program. The benefit is that development and commissioning times are reduced."
And all parties are delighted with the outcome. Mr Harwin said customers with typical water consumption rates are already saving around $100 per year on an average water bill through more efficient technology.
"Projects like this go a long way to making these types of savings possible." 
The project at Shellharbour will allow researchers to test a range of food waste products in a variety of mixtures to maximise energy production and to ensure that there are no down-sides to the process.
Worldwide interest
According to 2011 figures from the Department of the Environment and Energy, each year Australians generate about 361kg of food waste per person.
Professor Long Nghiem, from UOW's Faculty of Engineering and Information Sciences said wastewater treatment plants are the bio-generators of the future.
"There is a great deal of interest worldwide in harnessing the ability to recover energy and nutrients from waste water, in which could turn treatment plants into bio-refineries," Professor Nghiem said.
"Energy conservation and resource recovery is one of the most challenging issues in expanding cities. This method is one way we hope to make a positive contribution to reducing costs and greenhouse gas emissions."