OMRON GIVES UNIVERSITY STUDENTS A SNEAK PEEK INTO THE WORLD OF AUTOMATION
15-09-2015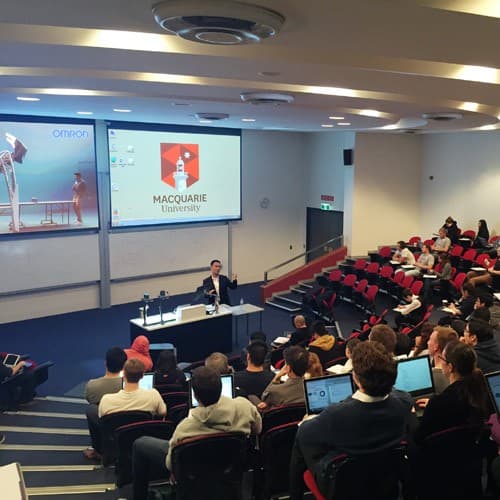 Can automation create happiness?
Henry Zhou, General Manager of Omron, posed this question to a group of university students in Sydney recently.
Mr Zhou was invited as a guest lecturer at Macquarie University, with more than 150 students from the Department of Marketing and Management in attendance.
"Machines can do more to unleash human potential," Mr Zhou explained during the thought provoking presentation. "Together with machines, people can experience more joy in their lives."
"And machines can expand human possibilities and bring about a better society and greater fulfilment for people."
During the lively address he posed a number of questions to students and rewarded them with chocolates for correct answers.
Mr Zhou gave the students a broad overview of the Omron Group, which employs some 39,000 people worldwide and turns over of A$9.15 billion annually.
Omron, a world leader in automation, has a proud history spanning 82 years.
"Omron is probably best known in Australia as a supplier of healthcare equipment, said Mr Zhou. "But this only represents about 12 percent of its total business."
Other business divisions include:
·       Industrial automation
·       Auto electronic components
·       Electronic and mechanical components
·       Social systems solutions and service.
Mr Zhou explained how automation solutions are changing the world.
"We are evolving from traditional labour intensive production lines to fully automated lines," he said.
This includes automatic production and quality control, automatic packaging and automatic guided vehicles.
Omron has provided automation solutions for leading companies throughout Australia and New Zealand through six direct sales offices and eleven distributors in regional areas.
Omron's underlying philosophy is "Working for the benefit of society."
Its core values are "innovation driven by social needs, challenging ourselves and respect for all." The company's main strengths include its high quality products and outstanding service.
"Omron is big enough to deliver and smart enough to listen."
This has been Omron's catch cry for many years now and it's starting to pay dividends, with the last three years all experiencing sales growth.
"That we've achieved our growth in a tough market, where many competitors' sales are declining, vindicates our strategy all the more" Mr Zhou said proudly.
"In order to maintain our success, we will continue to add value for our customers." Mr Zhou has recognised so many things have changed in a short period of time.
Ecommerce for example, has become a viable alternative for some people to the traditional bricks and mortar shops. It's important we at Omron adopt new methods of marketing and doing business.
"We are expanding into newer areas to look for new business," said Mr Zhou. "We are utilising more modern methods, like 'contents marketing', using social media to reach a greater audience, and thereby more potential customers."
Mr Zhou challenged the students by setting an assignment for them, to create a new hypothetical marketing strategy for Omron.
Students can work either individually or as a group, and will be under the watchful eye of Professor Yue Wang and his band of PhD tutors. Professor Wang has published widely in top journals and received the best paper award from Harvard University. He is highly regarded in the field of International Business and Strategy.
Professor Wang invited a number of leading companies in different industries to share their success stories with the students, Omron as being one of them.
"Mr Zhou's speech received overwhelmingly positive feedback from Macquarie University students," said Professor Wang.
"We'll be very keen to see what these undergraduates come back with. I'm sure they'll bring a whole new way of thinking and will be able to apply what they've learnt," said Mr Zhou.
Omron Electronics
1300 766 766