Published 26-03-2020
| Article appears in April Issue
Omron E8PC: A smart pressure sensor by any measure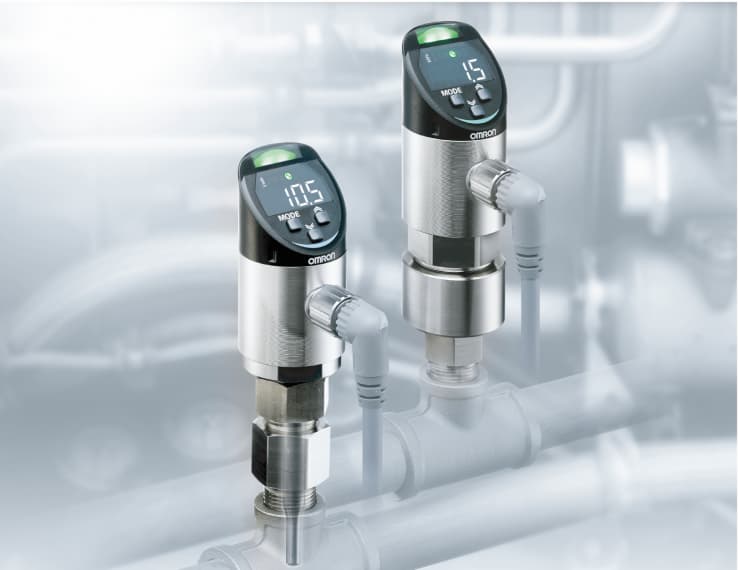 Pressure Sensors are used by a broad range of industries to detect the pressure of liquids and gases.
With Pressure Sensors, changes in pressure can be measured to confirm suction, verify mounting, manage source pressures and test for leaking.
Omron E8PC pressure sensors can detect signs of abnormalities in cooling water and hydraulic oil by simultaneous measurement of Pressure and Temperature.
This multi-sensing technology is an industry game changer.
Multi-sensing of Pressure + Temperature helps to prevent sudden stoppages or manufacturing defects.
With the Omron E8PC pressure sensor notifications of changes in the cooling water or hydraulic oil states are easy to understand. You can see the cause of the abnormality.
You can use a rise in hydraulic oil temperature to detect signs of hydraulic oil leak.
You can monitor hydraulic oil temperature changes to understand how much of a rise in temperature will affect packing degradation.
By mounting sensors on multiple pipes, you can quickly tell from the sensor LED displays what abnormality has occurred, in which pipe.
Since data outputs to a PLC by the IO-Link communications is possible, it is easy to perform maintenance before entering an abnormal state.
And the E8PC features an analogue current output function in addition to the IO-Link communications function that can perform self-diagnosis of abnormalities in the sensor itself.
Omron offers a variety of replacement adapters to enable easy replacement of your current pressure gauges and flow meters.
OMRON
www.omron.com.au