OMRON DRIVES STERILISING HOSPITAL ROBOT
15-07-2020
by
in
Safety in the Workplace, News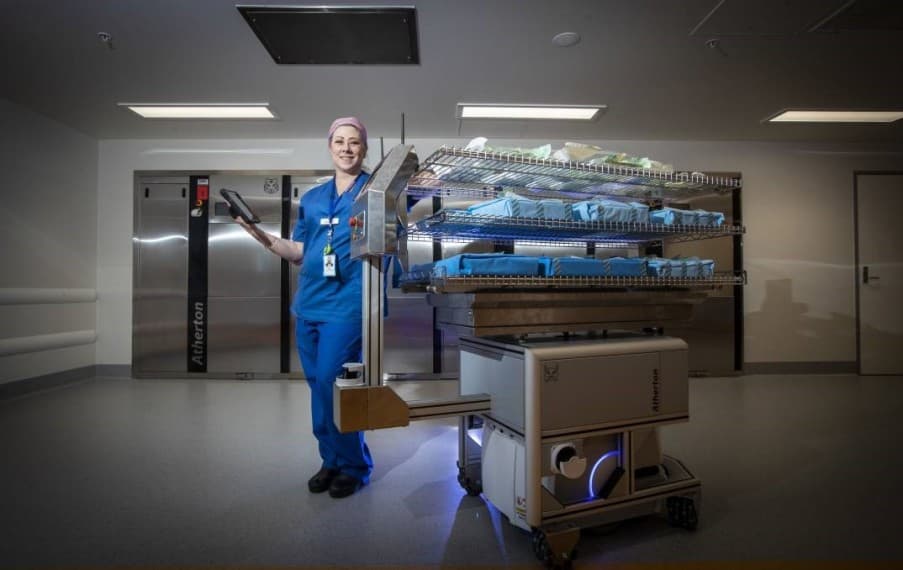 The Royal Hobart Hospital is now a safer, healthier workplace for staff thanks to Australia's first Central Sterilising Department (CSD) robot.
Developed by Omron in partnership with global sterilisation equipment and infection control leader Atherton, the automated guide vehicle is now in operation at the hospital.
The first-of-its-kind robot was two years in the planning, and transports reusable medical instruments and equipment for sterilisation at the new CSD facility.
According to TAS Health Minister Sarah Courtney, the robot will deliver better outcomes for staff by reducing the risk of workplace injuries.
"Automated vehicles will support staff by delivering around 100,000 packed hospital instrument trays to the new sterilisers. This will help to reduce staff injury by removing the need for repetitious lifting," she says.
"This is the first time any hospital in Australia has used the robot."
The new equipment, which includes two Omron LD series mobile robots, is part of a $2.8 million government investment in the new infection control facility.
"We want our patients to have access to the best possible care available, especially as we continue our recovery from the COVID-19 pandemic," Minister Courtney says.
The state-of-the-art CSD supports nine existing operating theatres and inpatient and outpatient services at the hospital as well as five new operating theatres, a procedure room, angiography and the cardiac cath lab in the new hospital wing.
It has a "dirty" area precinct that includes the new decontamination areas, washers and dryers and a "clean" area precinct which includes storage, assembly areas, sterilisers and the cooling and sterile stock area.
Omron business development manager John Merrett says the new CSD robots – which can handle payloads of up to 130kg and can operate autonomously 24/7 throughout the entire sterilisation process - will not only improve staff safety but will also deliver greater efficiency.
"We've been working closely with Atherton on this project for more than two years to deliver a solution that conforms to the strictest safety standards," he says.
"Using Omron's LD series mobile robots Atherton was able to deliver a fully automated solution to minimise the risk of staff injuries."
The CSD robot is programmed to follow a designated route in the "clean" and "sterile" sections of the new facility, avoiding any foreign objects in its path.
To avoid the risk of injury, it stops automatically if a human comes in close proximity.
Merrett says the new Lynx robot is gaining the attention of hospitals throughout Australia.
"Major hospitals are always looking for the latest technology, and this robot ticks all the right boxes."
Atherton is currently planning a further upgrade to its healthcare robot using Omron's latest LD250 mobile robot, which can handle payloads of up to 250kg.
Previously, hospital staff used a battery-operated cart system to manually transport loads of sterilised equipment weighing up to 100kg to key areas of the hospital.
Merrett says the mobile robots can also be used for other healthcare applications including pick-up and delivery of medicine and medical supplies, x-rays, health documents, bed linen and meals.
"The end result is better outcomes and support for patients and staff," he says.
"The possibilities are endless."
Omron Electronics
1300 766 766
www.omron.com.au