OMRON DRIVES PRODUCTIVITY AT QUARRY PROCESSING PLANT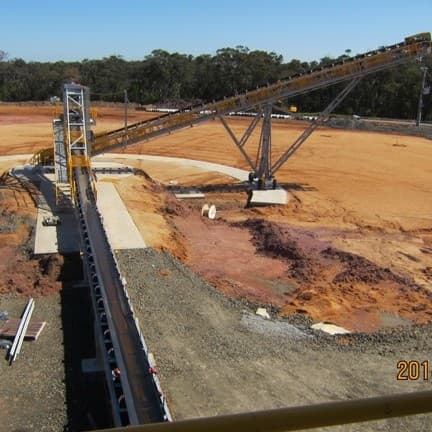 Operating a sand quarry processing plant at maximum efficiency can throw up many challenges.
Two years ago a major quarry at Grantville in southern Victoria needed an automation solution to help drive productivity.
The plant decided to engage Omron, a global leader in industry automation, to devise the most efficient system.
Omron recommended the installation of a Variable Speed Drive/NJ controller bundled solution.
The entire plant was fitted with 3G3RX & 3G3MX2 drives, all interconnected via EtherCAT /NJ controlling all motors / conveyors Safety, IO & a NS HMI screen.
"This included safety control on/off switches all hooked up on EtherCAT," said Chris Probst Omron Electronics VSD Product Manager.
"The quarry wanted to control the speed of the motors in order to vary production/mix rates," Mr Probst said.
"The DOL/soft starters used in the past provided no speed control which often resulted in wasted product. DOL/soft starters don't offer much fault finding."
"Omron VSDs record detailed faults and performance feedback, which can be used to adjust the VSDs to suit demanding load characteristics."
With Omron's bundled solution the quarry could run the plant unmanned if required.
"It is all now fully automated," said Mr Probst proudly.  
As the quarry had ample space for Electrical Cabinets, the IP20 drives were installed inside the cabinets.
These were assembled off site and then lifted into place. Alternatively, the quarry could have installed Omron SX IP54 wall hung drives.
Mr Probst said the biggest challenge at the Grantville quarry was the 22KW motor driving a Vibratory Screener that filters soil.
Sand is delivered by the truck load and falls from the top of the screener to separate any foreign material.
In this process a big offset cam/pendulum shakes the screener that weighs tonnes.
"The challenge was to get the pendulum flipped through the first180 degrees," said Mr Probst.
They had previously selected a 22KW VSD to drive the 18KW motor. However the motor was later sized up to a 22KW motor.
In such heavy duty applications, industry practice is to use VSDs at Normal Duty two sizes larger than motor rating. Heavy duty loads often demand high startup current, much more than is typically available from a Normal Duty rated VSD.
This is a reason many VSDs produce nuisance trips, because the behavior of motor load requires more amps than is available from a typical VSD.
To achieve this, 143% of maximum overload amps are required in the first few seconds, then steady amps at about 2/3 FLC (Full Load Current) during constant speed run.
The 3G3RX VSD carefully controls the Amps required, whilst avoiding nuisance over current trips that often plague heavy duty motor loads, resulting in halted production and service calls.
Normally a 22KW motor would be matched to a 30/37KW VSD for 3G3RX or a 37/45KW for SX to deliver the extra amps and torque required on start up. This is due to the significant inertia from the weight of the heavy cam due to gravity.
But after some fine tuning, Omron managed to get the motor spinning using the 22KW VSD.
"By very carefully monitoring the VSD performance and how the motor's load behaves, we managed to configure the optimum power from the VSD to get the load spinning without having to go up one size or more."
The is clear proof of the performance of the 3G3RX VSDs in demanding heavy duty applications.
"It shows how powerful Omron VSDs are," says Mr Probst. "Our competition could not have done that."
The 22KW 3G3RX VSD also utilised an external braking resistor, as safety shutdowns required a fast stop.
Using the correctly sized brake resistor enabled a fast safe stop in under 8 seconds, rather than wait for a free run stop which would take several minutes."
Omron is highly experienced when it comes to best practice in sand quarries.
"We have provided solutions for quarries throughout Australia, including Boral," says Mr Probst.
The Omron VSD was able to complete the task smoothly and efficiently.
"The system is very reliable and has eliminated nuisance trips, whilst improving motor reliability."
"Our client is extremely happy with the end result."
Omron Australia
Ph: 1300 766 766