OMRON DELTA ROBOT ON DISPLAY AT AUSPACK 2015
24-03-2015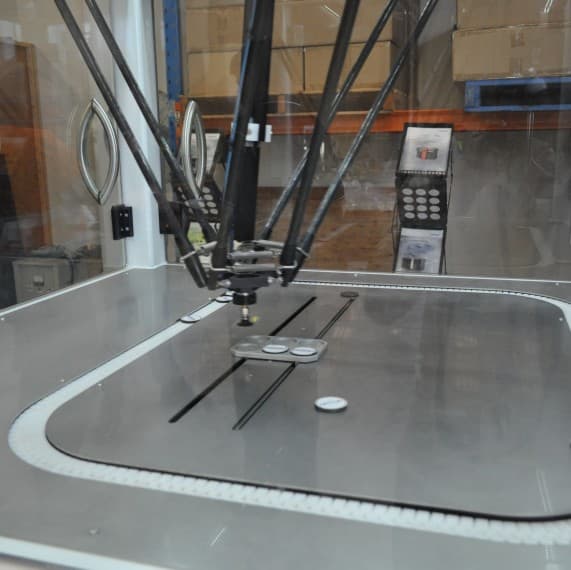 AUSPACK, Australia's leading packaging show, opens today at the Melbourne Convention & Exhibition Centre.
This year marks the 30th Anniversary of AUSPACK is owned and presented by the Australian Packaging and Processing Machinery Association (APPMA), Australia's only national packaging and processing machinery organisation.
More than 315 exhibitors, including 80 internationals, are showcasing the latest products and technology at Australia's premier packaging and processing exhibition.
This includes packaging giant Visy, which will display its latest innovative packaging solutions.
Omron, specialists in factory automation systems, has joined forces with Visy on Stand 225 with its state-of-the-art controllers and Delta 3 Pick & Place Robots on display.
Omron's FH-series Vision System controller provides higher speed and precision for Machine cycle time.
It is loaded with all of the performance required to move machines quickly and at high precision into a compact Controller for embedding into Machine.
The Camera/communications interfaces, image processing algorithms, and other features of this complete image processing system are built into one housing.
The FH-series can increase productivity and improve profitability.
Visy Automation is now using Omron's Delta Robots to replace the manual handling of products at its packaging sites across Australia.
The Omron Sysmac NJ Machine Automation Controller (MAC) is at the core of its system architecture.
Mr Paul Gibb, Omron's State Manager for Queensland says unlike other systems, the high-speed Atom® based controller can drive up to eight robots.
Mr Gibb and a team of experts from Omron will be on hand at AUSPACK to demonstrate the machine's capabilities.
Many of the exhibitors will be launching new and innovative solutions, including the Qimarox Prorunner mk5 ideal for vertical sorting and the Eriez Magnetics Vibratory Feeders for metering controlled product feed.
The Prorunner mk5 palletisers and vertical transport systems will be showcased on the Qimarox (Stand 399).
At Stand 744, Eriez Magnetics will showcase a comprehensive range of products to complement and safeguard packaging lines.
This include their new range of vibratory feeders for metering controlled product feed to weighing and packaging equipment.
Also displayed will be permanent and electromagnets for the removal of damaging tramp metal and Metalarm metal detectors for further protective filtering of processes.
AUSPACK runs from March 24-27.  
To attend the show, register at: www.auspack.com.au