OMNIWHEELS - THE NEXT GENERATION – NOW ROLLING INTO THE 21st CENTURY
15-11-2014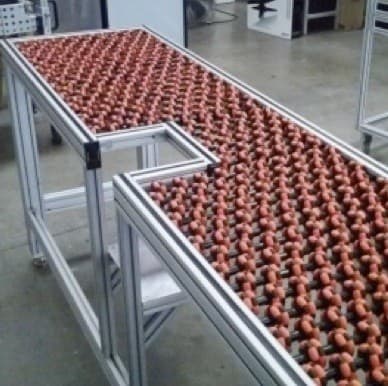 Who would have thought one tiny wheel would have such a major impact on industry globally?
A small Australian company created a wheel that can move independently in all directions nearly a decade ago and it is starting to change expectations of what a wheel can really do.
Generically referred to as an omniwheel, Rotacaster Wheel Pty Ltd is taking on the traditional wheel and castors market and it is scoring some impressive wins with it's unique patented rotacastertm – the wheel 2.0.  While omniwheels have in the past been limited to conveyor transfer and hobby robotics applications, the rotacastertm has been developed primarily as an industrial and commercial floor wheel with superior ride quality, impact resistance and load capacity. 
Not only does it provide the first real commercially viable alternative to the traditional swivel caster in more that 100 years, its construction substantially reduces the risk of lost rollers making far more suitable for mission critical conveyor transfer and pipe rolling applications.
This new capability opens the door for product designers and developers to a range of advantages (see below) that these types of wheels can offer over a swivel castor, transforming not only existing products but the potential to develop totally new products around this new found functionality. The potential applications of these wheels are endless.
They can be used across a broad range of applications, with the potential to reduce workplace injury while simultaneously increasing productivity. The best example of that is Rotacasters own patented self supporting handtruck, the Rotatrucktm, which has transformed an industry standard tool that has done the same thing in the same way for centuries (see how in the next edition).
The swivel castor while is undoubtedly a great innovation, despite its maturity, it is still only a part solution.  The majority of manually moved mobile products other than extremely light ones, still tend to incorporate two swivel and two fixed castor wheels in order to maintain a level of directional control and they react differently depending on which end you push from.  Despite this, we still see operators pulling carts rather than pushing them, introducing what is an undesirable ergonomic practice.
While a benefit of the swivel castor is its fluidity and reactiveness in directional change, this in itself can be an issue as it requires an operator to continually use micro adjustments to maintain directional control when pushing, resulting in this propensity to pull rather than push the cart. Rotacasters overcome this as their fixed primary axis provides inherent directional tracking and control in the desired direction and a consistency in user experience irrespective of which end you push from.
Rotacaster wheels currently have four key applications  –  manual materials handling, conveyor transfer, and robotics applications and as a smart alternative in the conventional wheel and castor wheel.
The revolutionary Rotacaster has been nearly 25 years in the making.
It was first developed – largely out of frustration – by Henry Guile, an innovative young Australian tradesman.
Like most of us, Henry found shopping trolleys on swivel casters were too restrictive, lacking directional control.
There had to be a better way.
So in 1990 he began investigating the creation of a wheel with unlimited movement potential.
A religious man, Henry was inspired by a biblical reference in the first chapter of Ezekiel that describes "a wheel in the middle of a wheel."  While Henry passed away before seeing his passion realised his son Graham finally worked out how best to make the wheel and so the Rotacaster multi-directional wheel was born. 
The company launched in 2005 and the final design was an engineering feat that revolutionised the very nature of the wheel.
This small Newcastle-based start-up company has a burgeoning global distributor base, bringing Rotacaster wheels to all continents.
Its network spans countries such as South Korea, Israel, South Africa, US, Canada, Mexico, Italy, Taiwan, Netherlands, Germany, Austria, Scandinavia and the UK.
With potential in an ever increasing number of interesting application including areas such as disabled mobility, lawnmowers, barbecues, luggage, prams and transport and staging equipment, Rotacaster is constantly engaged in R&D to develop variants of the wheel specific to industry needs and providing solutions to manual materials handling challenges.
Earlier this year Rotacaster entered into a licencing and mutual supply agreement with US material handling specialist Magline Inc., for Magline to build and distribute the Rotatruck in the USA.  Rotacaster also imports and distributes Maglines product range in Australia.
Closer to home Rotacaster ergonomic handtrucks can be found in major supermarkets throughout Australia including Woolworths and Coles as well as Masters hardware, Liquorland and BWS liquor stores.
Goodman Fielder also uses Rotacaster crate trucks to handle bread crates within it's NZ facilities, while BOC gas uses their specially designed Gas Cylinder trucks with a lift assist mechanism to handle the new Viper Cylinders on and off stillages.
Other major clients include:
·       PFD National Wholesale Foods
·       Norco
·       Australia Post (international mail transfer tables)
·       NRMA – roadside assistance vehicles (bunded battery storage transfer)
·       Amatil Coca-Cola – Neverfail delivery trucks
·       Good Guys
·       Better Electrical
·       Brad Jones & Dick Johnson Racing
·       Melbourne National Art Gallery
Put simply, Rotacaster's ground-breaking wheels provide a potentially disruptive technology to the traditional wheel and castor market.
The rotacaster is an Australian designed and manufactured product with patents around the world. 
The current range includes 125mm (made in Australia) and a 48mm (currently made in the US) wheel.
Rotacaster plans to soon extend the range to include a 80mm wheel with plans up to 200mm and beyond.
The rotacaster offers possibly the only commercial alternative to the traditional swivel castor wheels for multi-directional manouverability (mobility) worldwide.
In short, Rotacaster has re-invented the wheel.
Rotacaster
Ph: 1300 768 222