OMNI-WHEEL: A ROBUST SOLUTION FOR MULTI-DIRECTIONAL CONVEYORS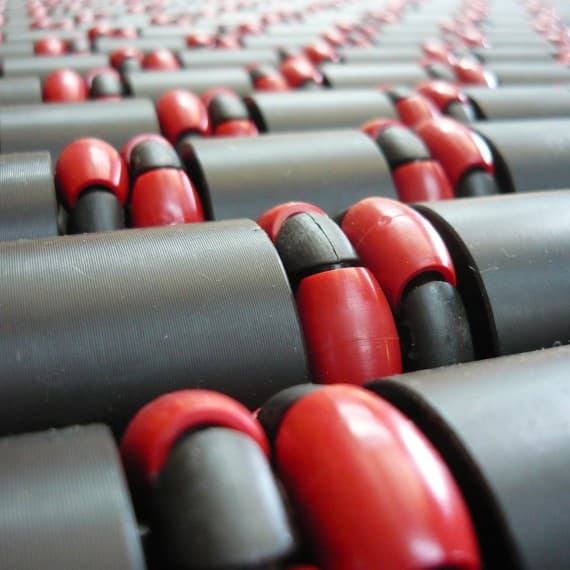 Omni-wheels have been used in conveyor transfer stations and also as an alternative to ball transfer units for some time now, however they are still relatively unknown in the broader manufacturing and logistics world.
While it is hard to say exactly why they haven't previously fulfilled their true potential in these areas, Rotacaster Wheels' Managing Director, Peter McKinnon believes the answer lies in a question continually asked by those that have used omni-wheels in the past. 
That is: "How do we get a replacement roller?" 
"Their need to ask this question is driven by their experience of having lost rollers on similar products, says Mr McKinnon. 
"They are pleasantly surprised when we advise that there is no need, as you either have to wear the wheel out or destroy it." 
While similar products use rollers on inserted steel axles, Rotacaster's patented method of manufacture uses a wheel frame incorporating the hub and outer roller axles, which are injection moulded as a single part. 
This results in a light but extremely impact resistant wheel structure, and over-moulding is used to encapsulates the remaining elements.
Previously, the risk of lost rollers would have made the use of omniwheels untenable in mission critical applications given the time and cost impact of potential shutdowns and maintenance.
The dependability of the Rotacaster wheel however, opens the door to deployment in a host of environments, providing a low cost solution to many of the more mechanical and power intensive systems.  
They are finding success as an alternative to ball transfer applications, air tables, and multi-directional pipe rollers for threading and spiral welding.
Australia Post recently replaced its ball transfer tables at its International Mail Exchange Hubs for both Melbourne and Brisbane to overcome staff injuries incurred while handling 40kg mail bags. 
Given the soft and random nature of the surface of these bags, Rotacaster devised a combination of 48mm Rotacaster wheels and low friction rollers to minimise the drag and effort required to successfully meet an ambitious maximum force/effort target.
The result is a system that can effectively provide multi-directional movement for soft packaging such as bags and sacks.
The 125mm wheel is also being used for pallet transfer stations in South Africa and Australia, multidirectional pipe threading and welding in the US, steel plate feed tables and light precast panel production in Australia and Canada.
Manufactured entirely of resins, the Rotacaster wheel is non-corrosive and offers a range of roller materials to cater for different needs, including driven applications.      
Rotacaster plans to add two new wheel diameters to its range this year – 35mm and 80mm. 
Its current 48mm wheel offers bores up to 12.7mm, making it one of the few that can be shaft mounted over a span.
This allows easy retrofitting to existing conveyor frames or T-Slot aluminium sections. 
Channel and cup mounts also provide simple installation options.
Rotacaster Wheel Pty Ltd
1300 768 222