OLD-SCHOOL TECHNIQUES ARE NEW-SCHOOL AGAIN
25-07-2017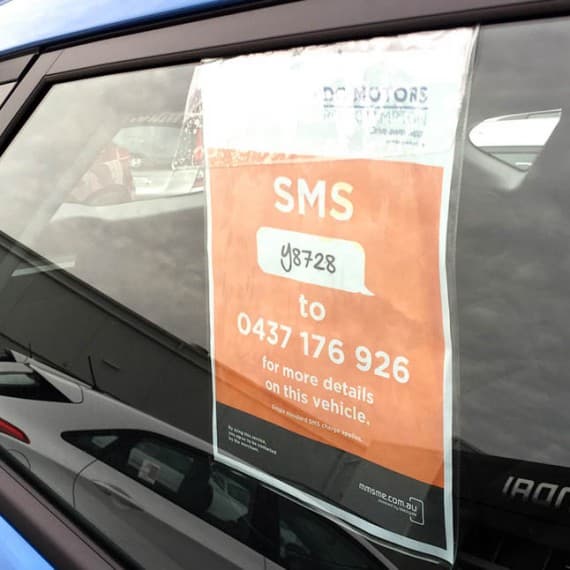 An example of the MMSme system, where texting a unique code will return information on a specific car for sale.
A word of advice to companies tinkering with big, cutting-edge systems: sometimes the old methods and technologies work just fine. 
This is the takeaway from Blackgate's new MMSme service, a throwback to old-school direct marketing methods. 
Australian companies have begun to adopt the system, which sends out automated text messages in response to customer inquiries, and the results have been surprisingly beneficial. 
Instead of scanning a QR code, customers can text a single-word code to the MMSme service, which then replies with a pre-set chunk of information. 
There's no requirement for the customer to have a data connection, and no need for them to have any specialised scanner or app. They text the number at any time of day, and are texted a pre-programmed chunk of information that (unlike a webpage) can be easily accessed in the future. 
Blackgate Managing Director Jason Williams said MMSme enabled businesses to save a lot of money compared to QR codes and other customer interfaces.
"Other programs make people manually visit various sites and have to look up information themselves – this just gets done straight away through text," he said.
Looking at dealerships using the system indicates a 50 per cent increase in growth month-to-month with popular dealerships receiving up to 80 leads per month.
MMSme has about a 50 per cent conversion-to-sale rate, where almost 90 per cent of leads are received from customers when a dealership is closed.
Its payment structure also means a dealership with at least 50 leads only pays about AU$100 per month including a subscription fee, whereas online providers can charge up to $1750 for the same service.
"We are doing similar things with houses in Adelaide where we send floor plans and building information by text," Williams said.
"The other side of the coin is that the business gets an email notification when a code is used and you are able to deliver more personalised service."
While car dealerships and real estate agencies have been the primary adopters of the service so far, there are potential applications for many different industries. 
When providing a service, it always pays to consider the benefits of all types of technology. The most advanced tech isn't always the most appropriate.