OLD-SCHOOL TECHNIQUE HAS A NEW-SCHOOL TWIST
08-02-2018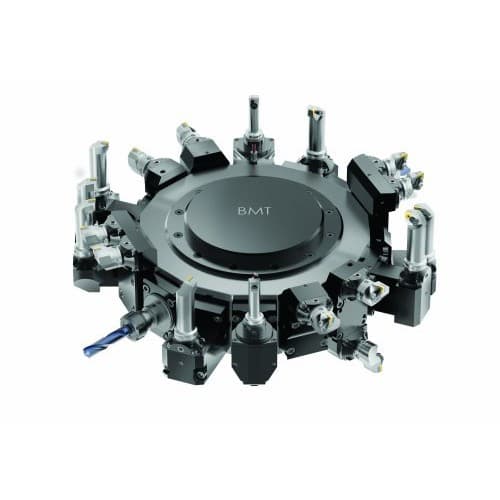 If you're still using standard lathe tooling, it's time for a change. 
As machine tools become increasingly complex and the demand for fast turnaround only increases, CNC lathe owners and managers must take advantage of the latest technologies if they're to keep up with quality and time demands. 
Despite this push towards new and innovative approaches, one of the best solutions for the bottom line is decades-old:  KMTM Quick Change Tooling. 
Kennametal is changing the rules of quick-change once again, bringing a fresh twist to the old. They are launching an entirely new KMTM product line: Turret Adapted Clamping Units.
What's more, Kennametal has partnered with global lathe tool specialist, EWS Tool Technologies, to manufacture and support this series of KM adapters.
Together, the two companies plan to redefine how shops will tool up the turrets on their DMG Mori, Okuma, Mazak, Haas, Doosan, Nakamura, Hwacheon, and Hyundai lathes, with more to come.
"I spoke to a lot of customers at last IMTS and EMO show, and my best estimate is that 80-percent of them do not use a quick-change tooling system," says Michael Schuffenhauer, Manager Tooling Systems at Kennametal.
"I was very surprised, and to me, it indicates a tremendous opportunity for these shops to become more competitive."
Turret adapted clamping units support an increase in competetiveness by replacing the standard block-style turret tooling with quick-change capable adapters made specifically for your brand of CNC lathe.
This is true for both VDI and BMT-style turrets, whether they are rotating or static, and for toolholders with axial, radial, and even angular orientation.
Suddenly quick-change is much easier to implement. Total tooling costs are reduced. Concerns over toolholder rigidity are eliminated. And because each clamping unit model was created by EWS to be a perfect match for prescribed machine tool builders, it's as if the machines were designed with a KM turret.
"KM uses a pair of hardened steel balls that sit within a tapered tool shank. As clamping force is applied, the tail end of the taper expands while the toolholder is pulled back against the locating face. Together with a small amount of interference at the gage line, this three-point contact provides extremely precise radial and axial positioning and repeatability, as well as high clamping forces," said Schuffenhauer.
"Simply put, it is the most rigid and accurate quick-change system available in this size range."
Kennametal
1800 666 667
www.kennametal.com