OKTOPUS LIFTER IS A SAFETY GAME CHANGER
30-03-2016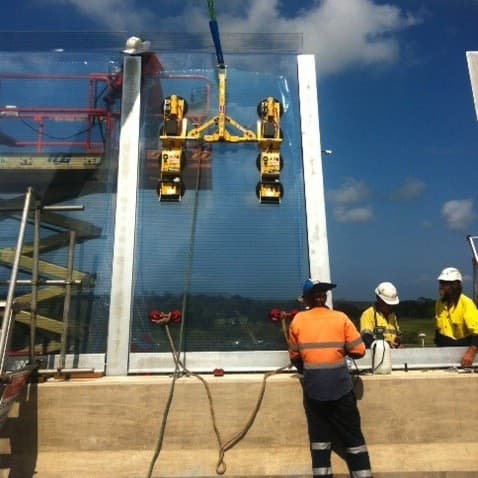 Next time you walk past a high-rise building, look up, and think of all the safety hazards that could be affiliated with installing a glass panel weighing hundreds of kilograms.
Until recently, 12V vacuum lifters with single pumps were used to install them – relying on that one vacuum not to fail during the lift.
But with safe machinery now paramount in the workplace, Kennards Hire Lift & Shift has come to the fore with an innovative lifting machine with occupational safety at its heart.
Designed to carry and place glass into window frames, OKTOPUS make class-leading compact vacuum lifters, that are now an integral part of Kennards Hire Lift & Shift product stable.
Their new range of dual-vacuum glass lifters all have two independent vacuum circuits.
This means if one is fail, the other is there to prevent anything from going wrong.
All lifters come equipped with a crane arm and an audio-visual low vacuum alert. They are also compact and universal, suitable for every construction site.
The new OKTOPUS machines raise the industry benchmark in safety.
The dual-vac is safer than the single-vac and will help to eradicate on-site accidents that could potentially come about when using a single-vac.
Kennards Hire Lift & Shift has rolled out the OKTOPUS machines across all specialist branches Australia-wide.
The OKTOPUS glass lifting range (from 300kg-1000kg) is available now to hire.