Offshore cable carrier for demanding applications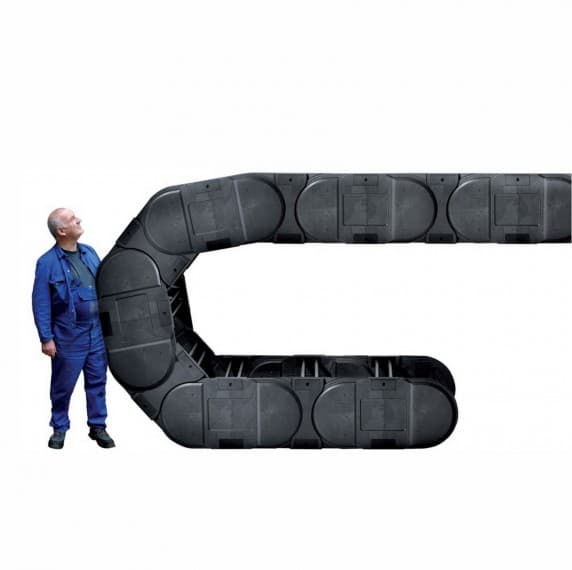 The latest generation of igus' proven heavy duty cable management systems is a cable management range designed for mining and offshore applications.
The igus Chainflex cable range has earned GL certification.
The new cable range (350mm interior link height) was specifically developed for the most demanding applications where electrical cables and large hydraulic hoses must be guided and protected on mission critical equipment.
With attributes such as its incredible strength to weight ratio, resistance to grease, oil, seawater, dirt, other debris, sun and temperature, it is an excellent alternative to traditional heavy-duty steel carriers.
This latest addition to the proven E4 lines of heavy-duty plastic cable carriers combines the features and benefits of its predecessors in the E4 range of cable carriers, such as low noise, modularity, and ruggedness into the All for One energy chain.
This new generation cable management system boasts design improvements such as a 33 percent increase in the unsupported span capabilities of the energy chain and a 133 percent increase in tensile strength. 
Other performance enhancements offer a complete solution for machine builders.
This includes enlarged wear surfaces for extending life and noise dampening features.
New accessories include the Push Pull Detection System (PPDS), which monitors forces on the chain during operation.
Previously, designers were forced to choose between non-offshore certified continuous flex cables or certified cables that were not designed for continuous flex operation in cable carrier systems.
igus can also provide turn-key ReadyChain solutions, fully harnessed to include Energy Chain cable carriers, Chainflex GL certified continuous flex cables, hoses, connectors and accessories, ready to plug in right out of the box.
Treotham Automation
Ph: 02 9907 1778