OEM wins top export award
31-08-2010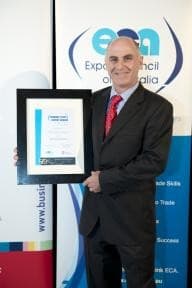 James McLeod … export award
OEM Technology Solutions, a high technology Australian engineering and manufacturing company supplying electronic products to the international railway industry has been honoured with the Premier's NSW Innovation in Export award.
OEM Technology Solutions was selected from four other nominees at this year's 50th Anniversary Premiers NSW Export Awards in Sydney.
OEM CEO James McLeod accepted the award on behalf of the company.
OEM has made innovation an integral part of its exporting process to help build and sustain its export business. The award is judged across all industry sectors.
OEM first exhibited its PC3 Series Programmable Controller to the world at the Innotrans 2008 trade show in Berlin.
The company has since grown exports an average 48 percent year, despite a downtown in the global economy.