Objet sets new benchmark in large format 3D printers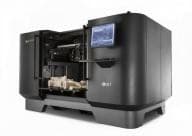 Cost effective … the Objet1000 large format 3D printer
Objet Ltd, a leader in 3D printing for rapid prototyping and additive manufacturing, has launched the Objet1000 – its largest 3D printer to date. 
Featuring a 1000 x 800 x 500 mm (39.3 x 31.4 x 19.6 inch) wide-format build envelope, the Objet1000 is ideal for automotive, defence and aerospace, industrial machinery, consumer goods and household appliance sectors as well as high-end service bureaus that need to create industrial size, 1:1 scale prototypes.
Ideal for all-round fit, form and functional prototyping, the Objet 1000 combines a large and extremely convenient build platform with the advanced precision of inkjet 3D printing and Objet's renowned Connex multi-material capability – all in a single machine.
"As our largest ever 3D printing system, the Objet1000 takes advanced inkjet 3D printing technology to the next scale, says Objet CEO David Reis. 
"The system enables our customers in a range of industries to now quickly and effectively prototype anything at full size, 1:1 scale, from whole airplane and automobile assemblies to complete household appliances. The Objet1000 is the next step in the 3D printing revolution."
Igal Zeitun, VP for Product Marketing and Consumables at Objet said the Objet1000 saves manufacturers and designers from having to assemble prototypes from smaller-sized jigsaw pieces or from having to use various less effective or efficient solutions.
"Unlike comparable 3D printing systems, the Objet100 is just as good at printing 1:1 scale casings that can be drilled, assembled, and screwed together as it is at reproducing the precise look and feel of small, complexly assembled consumer products, said Mr Zeitun. "The system is easy to use, can work for prolonged unattended periods, and requires only the minimal manpower to operate." 
The Objet1000 system offers a choice of over 100 materials, enabling designers and engineers to simulate both standard and ABS-grade plastics. 
As with all Objet Connex 3D printers, the Objet1000 is also able to print up to 14 different material properties within a single model.
First shipments of the Objet1000 will start next year.
Benefits include:
Precise 3D printing of very large and very small, finely detailed 3D models
Extremely large build envelope – 1000 x 800 x 500 mm (39.3 x 31.4 x 19.6 inch)
Objet Connex multi-material 3D printing technology
Wide range of usages and applications to meet form, fit and functional verification needs
Simulates standard and ABS-grade engineering plastics
Exceptionally reliable with large resin cartridges 
Requires only small operating teams and unattended jobs
Efficient cost of operation and fast ROI
Ideal for automotive, aerospace and defence, consumer goods, household appliances, industrial machinery and specialist service bureaus
Objet AP Ltd