NZ manufacturing on a high
31-08-2010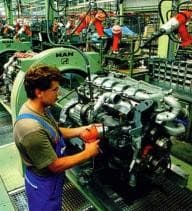 While Australia's manufacturing sector continues to struggle against a strong dollar and global economic uncertainty, our Pacific neighbours in New Zealand are powering ahead.
New Zealand's manufacturing sector recorded its highest level of activity in almost two years and a record for the month of February, led by metal production and machinery.
According to the NZ Herald, the BNZ-BusinessNZ Performance of Services Index rose 6.9 points to 57.7 in February from a month earlier, with four of the five of the sub-indexes expanding. The expansion was led by new orders rising to 63.1 and production on 61.9, both at their highest level since 2004. Deliveries increased to 3.8 points to 54, the highest since August 2011.
Employment was little changed on 51.3 as was finished stocks on 49. A reading of 50 separates a contraction from an expansion.
One economist at the Bank of New Zealand described the February reading as a "stunning" result.
In the manufacturing industry sub-groups metal production improved significantly, reaching its highest value for the month on 59.7. Machinery and equipment manufacturing increased to 56.6, while food, beverage and tobacco showed moderate growth on 53.3.
Petroleum, coal, chemical and associated products reversed its decline from last month on 52.4.