NZ manufacturing activity continues to rise
15-02-2010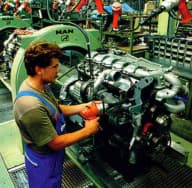 Manufacturing is keeping up a six-month run of solid expansion, with signs of many more new jobs in the sector, according to a business survey.
The latest monthly BNZ-Business NZ Performance of Manufacturing Index was 56.2 points for February, close to levels seen for the past half year.
An index above 50 points indicates that the sector is expanding and under 50 that it is contracting.
The NZ Reserve Bank has pointed out a strong link between the lift in the construction sector and manufacturing, with the flow-on effect from the massive Canterbury rebuild.
The Reserve Bank forecast economic growth of 3.5 per cent this year, and is predicting about 100,000 new jobs will be created over the next couple of years.
BusinessNZ's executive director for manufacturing, Catherine Beard, said the manufacturing index was in one of its most stable periods of expansion since the survey began.
"The last six months of manufacturing expansion have remained at the 56-point value, which represents a very solid level of activity," Ms Beard said.
BNZ senior economist Craig Ebert said the "real news" in the survey was in the employment index, now close to a record high for this sector since 2003.
"This is evidence that the economic upswing is gaining momentum, spreading across industries and fully radiating into the labour market," Ebert said.
The latest Statistics NZ figures showed a strong December quarter for manufacturing, with volumes up 5.7 per cent in the three months, boosted mainly by the meat and dairy sectors, up 15 per cent.
The latest PMI survey showed production (58.9) produced the highest level of expansion for the first time since July 2013.
New orders (56.9) slipped to its lowest level since June 2013, while employment (54.4) was up 3.2 points to record its second-highest level since May 2013.
Source: Fairfax