NZ COMPANY WINS INTERNATIONAL DESIGN AWARD FOR A RUBBISH IDEA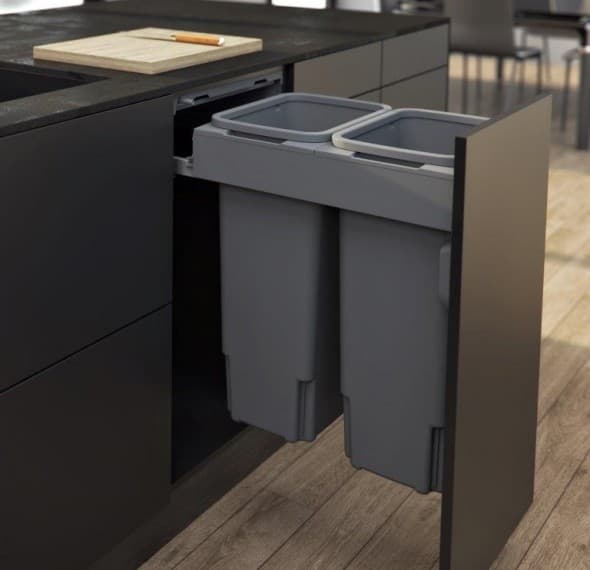 Auckland-based Hideaways Bins, run by daughter and father team Jamie and Allen Bertelsen, has won an award in the household appliances and accessories category of the prestigious international Red Dot product design awards for its innovative kitchen bin.
Their winning product, called Concelo, is designed to overcome common issues associated with the most-used but least-thought-about kitchen appliance, including grime and odours. It was one of more than 6300 entries from 59 countries in the competition based in Essen, Germany, where entries are judged by an international panel of 40 experts.
Jamie says the goal was to design the best bin possible for the homeowner. "It took seven years of research, development and testing but the result is a paradigm shift for a kitchen appliance that is used 20 to 30 times a day on average," she says.
The company's investment in R&D has been a crucial part of their success. "We couldn't have made this fabulous design without the hard work and commitment of our small R&D team," she says. "We also used a small focus group of cabinetmakers and kitchen designers who gave their time to provide feedback on our early designs. Dad and I accept this award on behalf of our hardworking team and all the people who gave their time to help us turn this idea into a reality.
"We believe Concelo will ultimately change the way the kitchen design industry will look at rubbish management in the kitchen - a bucket in a drawer will no longer be good enough, as home owners are far more aware of the need to deal with waste in a smart way."
Concelo is an integrated kitchen waste solution for rubbish and recycling that is clean in both its design and functionality. It exceeds the basic requirements of looking and running like a kitchen drawer by considering the homeowner's needs and requirements.
A key feature is its self-closing Active Lid, which is hidden from sight inside the cabinet, allowing hands-free operation and helping to control odours. It can be removed simply for cleaning at the push of a button.
The Clip 'n' Clean trays, buckets and liner holders are made from stain-resistant polypropylene and can be removed effortlessly for cleaning and clipped back into position in seconds, eliminating potential dirt traps in difficult spaces.
The bin boasts specially-designed and customised smooth over-extension synchronised runners. It is the first premium waste bin that integrates concealed runners into its design, making it possible for it to be mounted at bench height for easy use (no more bending inside cupboards), while allowing the back bucket to be removed independently of the front bucket.
The Red Dot award ceremony takes place in July this year at the Essen opera house in front of 1200 international guests. Winning products will be displayed in the Red Dot museum in Essen for one year.
Hideaway Bins
1800 042 642
www.hideawaybins.com.au