NSW Training Award winners announced
31-08-2010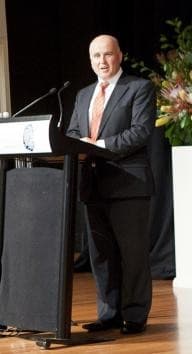 The winners of the 2012 NSW Training Awards have been announced at a special presentation event at the Sydney Convention and Exhibition Centre, Darling Harbour.
More than 700 guests attended the gala event, hosted by the NSW Minister for Education, The Hon Adrian Piccoli.
Supported by their families, friends, employers and trainers in the audience, the finalists took the stage, where MC Adam Spencer paid tribute to this year's winners and finalists for their achievements and commitment to training.
The finalists were chosen from over 940 nominations.
Mr Piccoli described the winners and finalists as a true inspiration.
"Our apprentices and trainees have reached this pinnacle of excellence through their passion for learning and the positive attitudes and skills they take from that learning into their workplaces," Mr Piccoli said.
Industry Update publisher Scott Filby presented the award for Large Employer of the Year to Wendy Cooper representing Milspec Manufacturing.
"Milspec is an outstanding example of how Australian manufacturers can benefit through apprenticeships and traineeships," said Mr Filby.
Milspec Manufacturing Pty Ltd is a precision engineering company engaged in the contract manufacture of industrial, commercial and military products. Its customers include a variety of government departments, rail, utilities, telecommunications and infrastructure organisations as well as many Australian and international defence agencies.
In 10 years of business, Milspec tripled its employee numbers, growing from a small family-owned business to a professional, globally-competitive organisation and has developed valuable relationships with some of the world's most significant prime Defence Contractors.
Other major award winners included William Peters, who was named the 2012 Apprentice of the Year.
William is enrolled in a Carpentry Certificate III
and trained by TAFE NSW - Hunter Institute and is currently employed by RWP Building Pty Ltd.
He was the National Carpenter's Day Association NSW Apprentice of the Year in 2011 and the Hunter Region Apprentice of the Year for the 2012 Regional Training Awards. He was also a World Skills Australia Hunter Regional Team winner.
William chose a career in building and construction both to follow in his father's footsteps as a builder and to make a contribution to building Australia's future. 
David Faillia was named the 2012 Trainee of the Year. 
David is enrolled in a Retail Management Certificate IV and was trained by Yum! Restaurants Australia Pty Ltd and employed by KFC Restaurants.
David was offered a Retail Management Certificate IV when he was 20 years old and upon completion, he was promoted to KFC Restaurant general manager.