NSW FABRICATOR COMPLETES MILSON'S POINT GANGWAY PROJECT
28-07-2017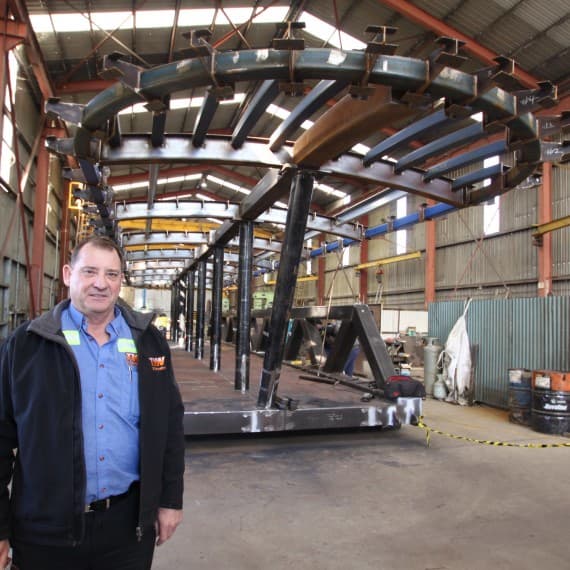 Tom Woods with the Milson's Point wharf gangway
TW Woods Construction has just finished making a 26t gangway for the new ferry wharf. The company worked with Waterway Constructions to develop the new wharf gangway, which will serve the busy commuter and tourist hotspots of Luna Park and North Sydney Pool.
The structure is 24m long and 4.4m wide, and its manufacture involved complex profile cutting and fabrication to create the massive steel structure that will be subject to considerable loading weights once installed.
The gangway has not only been designed to safeguard the safety of millions of tourists, but also has been designed for longevity in terms of environmental factors, such as the salt water that surrounds a ferry wharf and the varying and vibrating loads that will use it.
"The heavy fabrication and quality finish involved in this project are all especially designed to minimise corrosion, since it will be installed in a highly saline and busy industrial environment," said Tom Woods.
"For a company that's typically fabricating large machinery and parts for mining and bulk materials handling, it's a rewarding challenge to work on construction and infrastructure projects, especially in Sydney's key tourist and maritime facilities like Milsons Point," he added.
"The experience we have accumulated doing mining and infrastructure projects – including water, waste water, gas and industrial projects – has contributed to our understanding of and exceeding the high-quality standards expected for this public infrastructure task."
The project was made possible by a multi-million dollar investment by TW Woods to upgrade its fabrication and metal processing facilities, including CADCAM plate processing facilities, stud welding machine and a plate handling and processing facility serviced by a 10-tonne overhead gantry crane.
TW Woods Group
02 4964 8300
www.twwoods.net.au