News, Manufacturing Technology
NSW builds world-class intermodal hub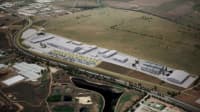 Construction is underway for the Riverina Intermodal Freight and Logistics hub which will enable the exporting of freight across Australia and abroad.
Deputy Premier John Barilaro said the development of the 60-hectare Bomen Industrial Precinct near Wagga Wagga is fantastic news for the Riverina region, boosting the capacity to share our exports with the world.
"This precinct will make Wagga Wagga a major player in domestic and international freight export, making the town even more attractive to local and international businesses," said Mr Barilaro.
"This intermodal facility will be a world-class business hub servicing the region's advanced manufacturing, recycling and renewables industries and help local businesses reap the benefits of the Inland Rail and Wagga Wagga Special Activation Precinct."
With a view to creating vital jobs in the region, the NSW Government is investing $43.7 million in the project – due for completion by mid-2022 – and has significant investment from Wagga Wagga City Council and commercial partner Visy Logistics.
Minister for Regional Transport and Roads, Paul Toole, said the RIFL hub, the Inland Rail and the Wagga Wagga Special Activation Precinct will work hand in hand to fast-track access to national and international markets for regional businesses and products.
"When completed, this hub will give regional businesses ready and cost-effective access to markets across Australia and around the world, and there's never been a more important time as we recover from drought, bushfires and the Covid-19 pandemic," said Mr Toole.
"It's also going to reduce the number of trucks moving through the Wagga Wagga central business district, giving local roads back to the local community.
"The upgrade will provide the precinct with enabling infrastructure and a 4.9-kilometre master rail siding and container transfer terminal.
"Preliminary site preparation work and earthwork activities are already underway, ahead of the construction of power, stormwater and sewerage connections to the industrial precinct and the laying of rail tracks and turnouts."
NSW Nationals MLC Wes Fang said the project will deliver incredible benefits to the Riverina, cementing its reputation as a manufacturing and freight hub.
"This is a great example of how state and local governments can work together with industry to deliver projects that will benefit regional communities and economies in the Riverina for generations to come," said Mr Fang.
Wagga Wagga City Council Mayor, Greg Conkey, said it was exciting to finally see the start of site works on the ground-breaking investment in the city and its surrounds.
"It has been 15 years in the making and it is an example of a genuine partnership between state and local government and industry," said Mr Conkey.
"The RIFL hub terminal will be the core for future growth and expansion in the Bomen Special Activation Precinct, generating up to 6,000 jobs in this region, and has the potential to drive the economic future of the city for decades."