NOZZLE UNDER NO PRESSURE TO HANDLE HEAVY APPLICATIONS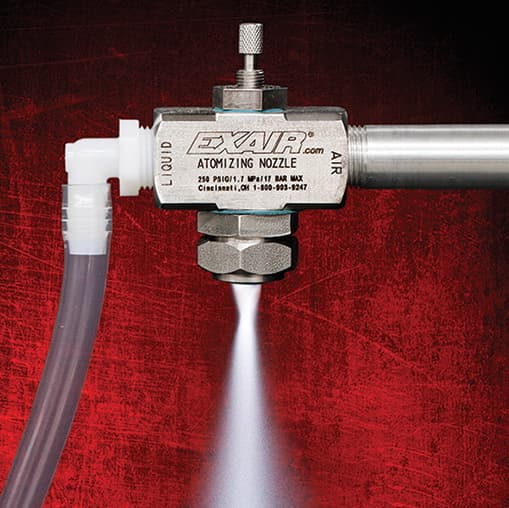 The latest addition to the Exair range of stainless-steel spray nozzles available from Compressed Air Australia can be used to atomise a variety of fluids in a round spray pattern where no liquid pressure is available and heavy application of liquid is needed.
The 0.5in siphon-fed atomising spray nozzle draws liquid into the airstream and mixes it internally while providing up to 610mm (24in) of suction height. An adjustment valve is included to meet the needs of each application, and the nozzle provides high liquid flow up to 228L/h in a 152mm (6in) diameter round pattern. A patented "no-drip" version is also available to conserve liquids.

The Exair range includes a wide variety of atomising spray nozzles suitable for coating, cooling, treating and painting a variety of products using compressed air and liquids with viscosities up to 300cP.
When used with water, these atomising nozzles offer an efficient way to evenly cool hot items in automated processes. They are also commonly used with light oils, rust inhibitors, chemicals, paints and dyes.

The atomising nozzles are available with 0.25 and 0.5in connections and in a variety of spray pattern sizes and shapes. All models are adjustable and have a mounting bracket available. They come with a 5-year built-to-last warranty and are CE compliant.
Compressed Air Australia
1300 787 688
www.caasafety.com.au