NOVEL TRANSFER CHUTE DESIGN LASTS LONGER IN HARSH ENVIRONMENTS
09-01-2018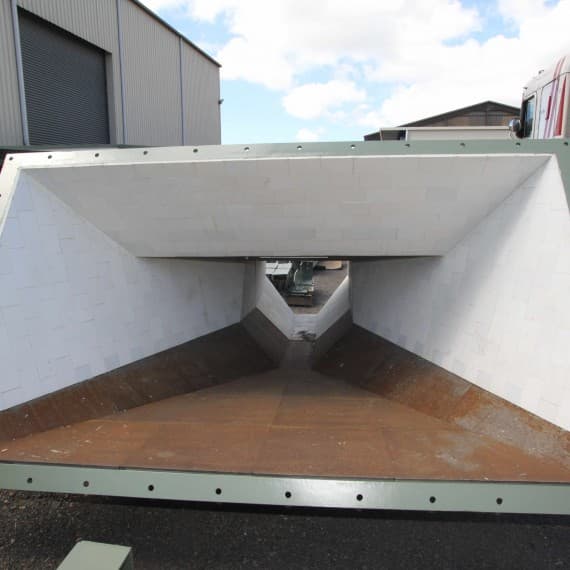 White ceramic tiles resist abrasion
Chute Technology has developed a novel design for long-life coal chutes and bins that eliminate clogging, excessive wear and costly breakdowns in corrosive mining environments.
The new minerals processing technology, designed using discrete element modelling (DEM) techniques, combines space-age ceramic tile abrasion linings and replaceable high impact wear elements made from chromium carbide overlays, to reduce maintenance and increase wear life.
Chute Technology Partner Tom Woods says the first examples of the new materials handling technology are already being manufactured for use in a major Hunter Valley mine. The client was looking for a long-term solution to clogging, high wear and production interruptions occurring as old chutes were removed, and new ones installed under its rotary breaker and main scalping screens.
"Some of the old materials handling technology used at different mines has been wearing out in months instead of years as they mine through wet and rocky material," says Woods. "The chutes' constant failure and replacement is disrupting production continually in a number of locations, which require a long-term solution to the problems resulting from high material impacts and high abrasion factors within their production chain."
Using DEM technologies proven in coal and ore applications throughout Australia, Chute Technology was able to model and translate into reality an optimum configuration that minimises impact and abrasion zones and smooths the flow of material. The new design eliminates some common impact and abrasion zones, while placing additional impact and wear protection in other zones most subjected to maintenance issues.
Ceramic tiles are used in areas most exposed to abrasion, using the same extremely hard and thermal shock-resistant material employed by NASA on spacecraft and increasingly in high-performance commercial and military aircraft.
High-strength chromium carbide steels are used in areas most affected by impact. To further reinforce the new materials handling technologies' low-maintenance credentials, the chutes and bins' entire bodies are manufactured from 3CR12 corrosion resistant metal for long life.
"The end result of the new smooth flowing designs and the strategically placed impact and wear materials is a product that is engineered for virtually no blockages and no maintenance for extended periods of years, in many cases in excess of the life of the mines in which they are located," says Tom Woods. "The additional cost of the long-life technology is more than offset by the gains in production and improvements in safety resulting from the curtailment of labour-intensive blockages and infrastructure replacement."
The new materials handling technologies are not only applicable to wet and sticky coal and ores, but also to other materials handling inputs prone to create wear and expensive blockages and maintenance, with attendant production costs and OH&S risks and costs.
The design fundamentals have already been proven in practice, with DEM analysis techniques applied to both mines and coal loading facilities. And the wear and impact materials are premium products that have also demonstrated their qualities in the toughest applications.
Chute Technology
1300 833 140
www.chutetechnology.com.au