NOVEL T-SLOT CLAMP SIMPLIFIES FIXTURING, SAVES MACHINING TIME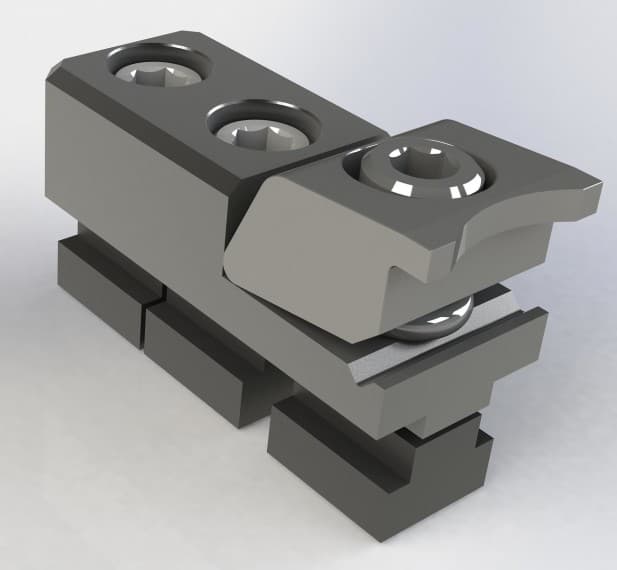 By fitting into the T-slots on machine tables the versatile Mitee-Bite HD T-Slot Clamp reduces the number of machining operations required, saving both time and materials costs.
Generating an impressive 88kN of down force, the T-Slot Clamp bolts straight down onto the machine table, eliminating the need for a separate fixture. The reduction in setup time makes the machining operation quicker and more efficient. The hardened-steel clamping element has both a smooth surface for machined workpieces and a serrated clamping surface for rougher work.
The HD T-Slot Clamp is designed specifically for use with Pitbull and OK-Vise clamps which can be used on the same base in a variety of configurations, ensuring plenty of holding force. Both Pitbull and OK-Vise clamps can be reused, further saving time and money.
The Pitbull Fixture Clamp is well known for its low profile and positive down force and is now available as a modular clamp in two styles. The Slotted Modular version with a step offers increased versatility through its unique riser design. It supports the workpiece off the machine table for through milling and drilling. The hardened and ground clamps are designed for use on work cubes, as well as machined tables with tapped holes or T-slot configurations.
The Compact Modular version is ideal for clamping workpieces in series by using the back surface of a clamp to locate the next workpiece. The back of the clamp is ground square to the bottom for precise location of parts. The height of the clamp can be adjusted by the depth of the milled slot used to locate the clamp. Both versions are produced in two sizes with holding forces of 16 and 26kN.
The popular Pitbull Clamp is also available in a machinable version with additional material on the clamping face to allow for machining a radius or profile.
Thanks to the low-profile design of OK-Vise clamps, three-directional workpiece machining can be performed with just one fastening. And this ability to machine a workpiece in three planes means improved accuracy.
"Mitee-Bite's new HD T-Slot Clamp is one of the strongest lowest profile clamps available and has the added benefit of eliminating the need for a separate fixture," says Dimac Managing Director Paul Fowler. "The fact that both Pitbull and OK-Vise clamps can be used on the same base will ensure that no matter what your job, you'll be guaranteed more than enough gripping force."
Dimac Tooling
03 9771 6121
dimac.com.au