NOVEL MATERIAL EXTENDS LEAD SCREW NUT SERVICE LIFE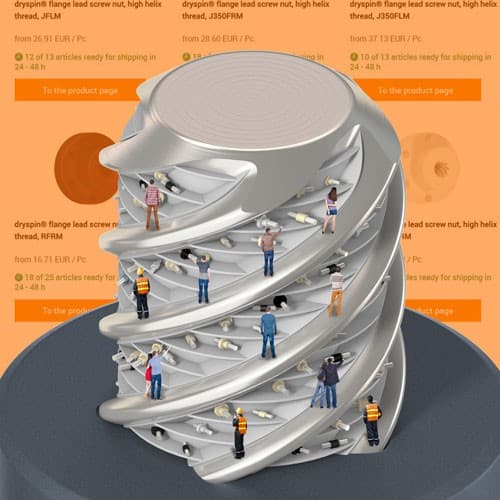 The latest material from igus for lead screw nuts promises greatly extended service life. Users can configure high helix, trapezoidal and metric threads using iglidur J200 material online with the igus lead screw configurator and predict the service life of the nut.
The self-lubricating lead screw drives are used in a wide range of applications, including extendable platform steps on commuter trains, 3D printers and valve actuators and fittings in the chemical and process engineering sectors.
In addition to metric threads, trapezoidal and high helix lead screw threads are available. The latter can replace toothed belt or pneumatic drives. With more than 70 different lead screw pitches, three lead screw materials and nine different nut materials – including the new durable iglidur J200 – in ten different versions, there are more than 5000 possible lead screw combinations.
In tests, lead screw nuts made of high-performance iglidur J200 achieved a service life three times longer than that of a standard material for nuts running on hard-anodised aluminium lead screws.
When used in combination with aluminium, this new nut material reduces noise, dampens vibration and is lightweight. A typical application example can be found in train and aircraft door systems, as well as applications in the handling and automation sectors.
Cylindrical and flanged lead screw nuts are available from Treotham to order from stock, which are also suitable for use on high helix and self-locking trapezoidal threads.
Treotham Automation
1300 65 75 64
www.treotham.com.au