NOVEL HAMMER DESIGN PROTECTS USERS FROM SHOCK AND VIBRATION
11-01-2017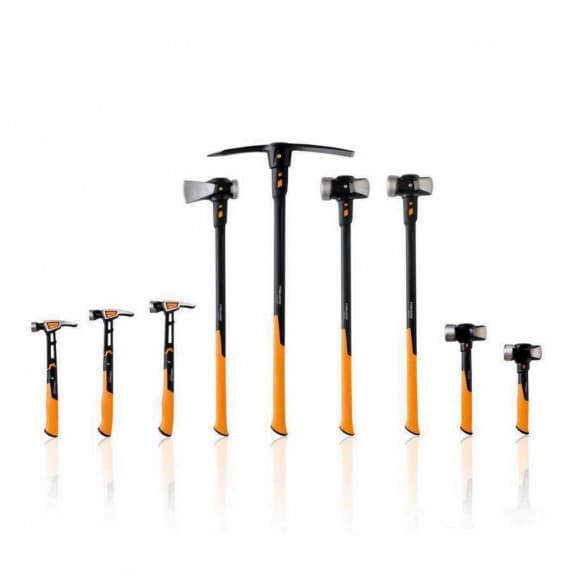 Fiskars has taken on the task of redesigning the humble hammer with the release of a range it claims massively reduces the shock and vibration experienced by the user. The IsoCore shock control system used in the new range captures the kinetic energy and vibration of every strike, reducing the impact felt by the user up to four-times compared with a traditional hammer.
The Fiskars IsoCore range comprises two sizes of claw hammer, one framing hammer, a club hammer, a sledgehammer, a maul and a mattock, all equipped with the novel vibration control system. Each of the smaller hammer heads has a magnetic insert to hold a nail in place ready for the first hit.
The club hammer, sledgehammer and maul also use the IsoCore design to reduce vibration and incorporate overstrike protection to strengthen the shaft. The heads feature a sloped design to push debris away from the user and towards the sides after each hit.
For added safety all hammers in the IsoCore range feature a retention bolt that ensures that the head will not separate from the body.
According to Fiskars, the statistics show that two out of three building professionals will suffer hammer-related injuries, wrist or elbow pain or numbness from vibration during their working life. The company reckons its new hammer design can go a long way towards reducing this likelihood.
Fiskars
www.fiskars.com.au