| Article appears in October 2019 Issue
NOVEL BYPASS TECHNOLOGY GIVES FANS A JET-PROPELLED BOOST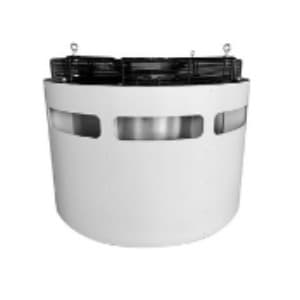 Billed as the next innovation in fan technology, Airius's patented bypass technology enables its newest fans to produce unprecedented airflows, with the largest model, the G560, producing a whopping 21.28N of thrust.
The bypass technology used in the new hidden-blade fans works in much the same way as the engines used in the Dreamliner jet, capturing and propelling large volumes of air through the system.
So while traditional fans push available air down, existing Airius hidden blade fans capture and push massive amounts of air through. The addition of the bypass technology takes their effectiveness to the next level by capturing and propelling air from the top and side of the fan for additional effectiveness.
There are two models initially using the new technology.
The G560 is the mother of all fans, designed for Australian heat and for the large open spaces market. It is the company's most powerful to date, and is designed to cool in the hottest of Australian warehouses and even stadiums.
Also new, the Onyx is billed as a great all-rounder fan designed for optimal performance in a compact and effective fan. Ideal for spaces from 4 to 8m high, the Onyx features an optimal balance of output and cost.
Airius Oceania
02 6608 2736
airius.com.au