NOVEL BATTERY-POWERED CHAIN BLOCK HOIST ARRIVES IN AUSTRALIA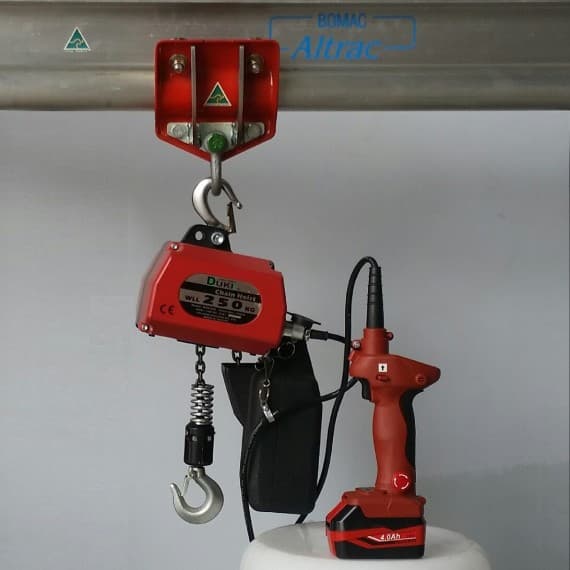 An award-winning Li-ion battery-powered chain block hoist, previously available only in the European market, has arrived in Australia. Available exclusively from Melbourne-based Bomac Engineering, the Duke hoist is available with either 250 or 500kg capacity.
"As far as we know, there is nothing else like this in the Australian market," says Bomac engineer, Tate McFarlane. "It's been very well received and we are pretty excited about the potential for Aussie manufacturers."
The Duke hoist offers the ease-of-use of an electric chain block hoist but with no hard wiring required. And, unlike many hard-wired electric hoists on the market, the Duke battery hoist comes as standard with safety features such as an LED load display and an overload warning buzzer.
It also offers variable speed when moving up or down. Much like using an electric drill, the amount of pressure on the trigger dictates the speed of movement. This allows items to be lifted quickly or set down slowly and gently, or anything in between.
But the thing that really sets it apart is its portability.
"Imagine if you could literally pack up your hoist and take it with you," says McFarlane. "How would that affect your company's ability to work more effectively on- or offsite? Or if you could easily move a hoist around your workshop to immediately deal with maintenance issues as they arise, could you keep your manufacturing process ticking along more efficiently?"
Late last year McFarlane visited the manufacturer of the Duke hoist in Taiwan and was impressed with the quality of the manufacturing and the detailed testing done on every single unit.
Bomac Engineering
03 9796 5300
www.bomac.com.au