Product News, Business & Finance
Nothing too hard for Custom Trolleys Australia, thanks to Tente wheels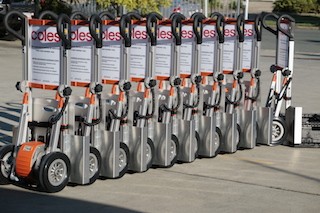 Above: Custom trolleys built on Tente wheels. Below: Paul Fillery (internal sales), Shane Taylor (general manager) and Craig Bell (business development manager).
As paradoxical as it sounds, Custom Trolleys Australia is now putting much more focus on custom trolleys – and making a success of it. 
The company, in Browns Plains, Queensland, has produced its own line of trolleys since its inception in 1997 but the competition from ever cheaper Chinese imports has forced a rethink, general manager Shane Taylor told Industry Update. 
Instead of offshoring production, as competitors have done, and joining the race to the bottom, Custom Trolleys chose to differentiate itself by building trolleys and hand trucks that did things no off-the-shelf product did.
"We are finding very few trolley manufacturers willing to customise to the extent that we will. Our focus is on providing the right solution whereas a lot of competitors are focused on pushing what they already have," he said.
"We don't really have a too hard basket.
"We have a strong focus on providing an end result that ticks every box. We are not looking to provide second-rate solutions.
"We feel that customer service in general is on a massive decline and we don't want to be part of that. So we put quite a bit of effort into it. People come to me with what they have in mind and usually I can give them something that exceeds their expectations."
So how else does Custom Trolleys set itself apart? Well, just as strong buildings need sound foundations, trolleys and hand trucks need quality castors and wheels.
"We don't go to anyone else but Tente, if they have what we need," said Shane, referring to Sydney-based Tente Castors & Wheels, which is part of the global Tente family, headquartered in Germany. "They are our major supplier.
"Being able to advertise a German made product is fantastic. The price is very reasonable when you consider that some of the products we buy from Tente are now priced almost on par with the Asian imported product. Some of it is more expensive but you are definitely getting a much bigger jump in quality than what you are paying in price," said Shane.
"We are essentially producing a premium product and it wouldn't sit well if we were fitting cheap castors."
He said that what also set Tente apart from competitors was that is part of a global group, rather than an Australian reseller.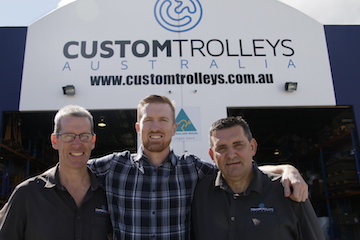 As with many local businesses, the pandemic has led to an upturn in sales. Shane said the first six weeks were very quiet if not for the online business of supermarket giant Coles, which itself had experienced rocketing sales, having approached him with special requirements for custom trolleys. Several large orders followed, and he hasn't looked back.
"We do product for just about every industry. It's just amazing how many businesses and industries require trolleys. Until you work in it, you don't realise. Most people who walk in the door, look around and go 'I never knew there were so many trolleys' – but what's on display is only a fraction of what we've created."
Shane, who is part owner of the business, said that while it did not target an export market "overseas companies do sometimes find us. It seems that Australia has a reputation for manufactured items because we get people contacting us from countries where I'm certain they could find what they're looking for at home. We've sent products to Singapore, Indonesia, Timor, Sri Lanka, Fiji and even China." In the case of the latter, it was for chair trolleys for a luxury hotel.
In cases where price is the main factor, Custom Trolleys has connections overseas that allows it to build in volume. "But where quality and design control is paramount, you can't beat local manufacture," he said.
One area that Shane said he was excited about was that they had recently finished designing and trialling a range of motor-drive kits that can be retro-fitted to trolleys. Existing products had limitations that he felt he had overcome. 
Shane studied psychology at university and while he enjoyed most of the study, he soon realised he didn't want to pursue a career as a psychologist. He found a job with Custom Trolleys 16 years ago, and nine months later was running the business, which now has 15 employees.
"What I get most excited about, is having the opportunity to come up with something that is truly innovative and a level above what the customer is expecting, especially when we have the budget and time to come up with something that is really exceptional. Finding an elegant and viable solution to a difficult problem - that's my favourite part of the job."
So how did Custom Trolleys come to use Tente wheels and castors? As is often the case, it was all about personal relationships. Custom Trolleys had been sourcing most of its components from another supplier, represented by Daniel Mann. 
"Dan provided a really excellent service to us and we built up a terrific relationship with him. We always felt that he represented our best interests. He ended up going to work for Tente. At the same time, Grant Smith, the Managing Director of Tente in Australia, had been talking to us about coming aboard. We knew they had good product, but it was only when Dan, who we trusted, moved over to Tente that we felt we could seal the deal. We knew that if Dan said he could make something happen, it would happen."
Dan is still at Tente as its sales manager for Queensland.
"I've recommended Tente to other businesses, saying that they've got a product that is head and shoulders above what else is out there in terms of quality while being at a price that is only a little bit more. The small jump in price comes with a big improvement in build quality."
So what are some of the more unusual product requests Shane has had? "The weirdest application was that we built a specialised scissor lift trolley designed so that the customer could better perform turtle autopsies."