NORD drives construction giant Holcim
31-08-2010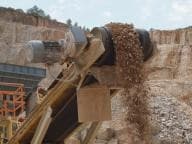 Heavy duty is no problem for NORD products – they are ready for any challenge. 
That is why Holcim Ltd, one of the world's largest construction material producers, chose NORD drive systems for its cement plants and concrete factories in Croatia.
Both companies have now completed a three-year-contract for the exchange of older drives.
The scope of delivery includes additives of different aggregates along with cement, gravel and concrete. 
For the past 10 years Holcim has been represented in Croatia with six concrete factories, a cement plant and three quarry systems. 
From the beginning, Holcim Croatia has mostly used drive solutions from NORD Drive Systems for the belt conveyor systems used in these facilities.
NORD drive systems are ideal for all types of conveyors and suitable for almost all grades, lengths and speeds. 
Variable speed geared motors with frequency inverters are used for small bucket elevators, while unregulated single speed geared motors provide the higher performance required for larger systems. 
Because of the mass to be transported, gentle start-up via a fluid coupling is essential, while a back stop prevents the conveyor equipment from running backwards. With an efficiency of about 95 percent, the gear units are available in a shaft, foot or flange mounted versions to suit the application. 
The maximum capacity is up to 200 kW with a maximum torque of 50,000 Nm.
NORD Drivesystems Pty Ltd
Ph: 03 9394 0500