NONDESTRUCTIVE TESTER MONITORS FOOD AND PHARMA PACKAGING
21-05-2018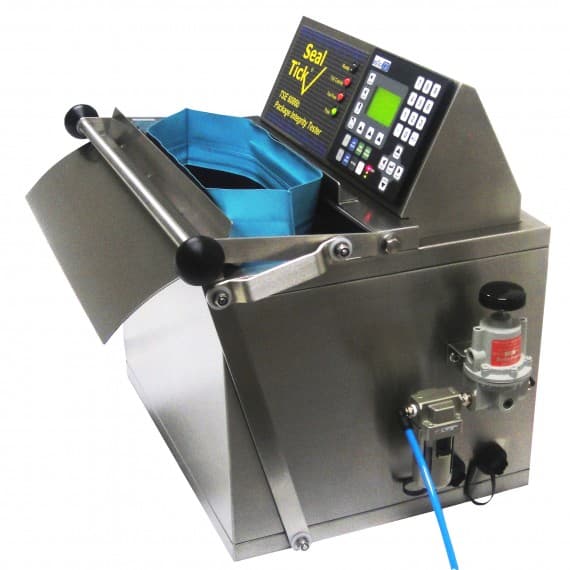 Packaging greatly influences the branding and integrity of food products. The ability to detect leaks in packaging is essential to ensure the freshness, quality and consistency of food products.
The last thing a consumer wants is to find that food recently bought from the supermarket is rotten and inedible due to the penetration of organic gases, foreign material or package leaks. Food manufacturers strive to prevent this issue and considerable efforts go into developing package materials that are gas-impenetrable and leak-tight.
Traditional leak testing uses a water bath leak tester that allows the user to visually detect the location of a leak. But while such tests enable the observation of even the tiniest leak in a package, they rely heavily on the operator to visually detect the leak, which cannot be guaranteed over a long period of time.
In addition, the tested package cannot be returned to the production line and must be discarded.
Now, however, new technologies have enabled the development of leak testing machines that are both more reliable and offer greater consistency of results in testing food and pharmaceutical packaging.
The Sealtick 6086b is a nondestructive package tester from Bestech Australia that can be used to test wide range of packages, including cans, bottles and flexible packages. It uses a vacuum decay test method that affects neither the package nor its contents, and so the tested package can be returned to the production line for additional testing.
Importantly, such testers can be used for packaging validation, inspecting the integrity of the packaging before it is filled, giving the operator assurance that the finished packaged products is less likely to fail the leak test.
The Sealtick 6086b leak tester offers simple and automated testing with test results finalised in 5-20 seconds. The LED panel provides a clear indication of the test results and the operator simply needs to react to the fail/pass lamp without having to visually observe the leak.
In addition, the leak tester provides quantitative results and has an inbuilt datalogger. This allows a manufacturer to assess historical test data to determine the root cause of the problem when things go wrong.
Without a doubt, the Sealtick 6086b offers tremendous cost-saving advantages over conventional water-bath leak tester. Various models are available depends on the weights, sizes, and shapes of the packages. For more information on our Leak Testers product, please contact us to further discuss your applications.
Bestech Australia
03 9540 5100
www.bestech.com.au