Published 02-11-2021
| Article appears in October 2021 Issue
A Noble Purpose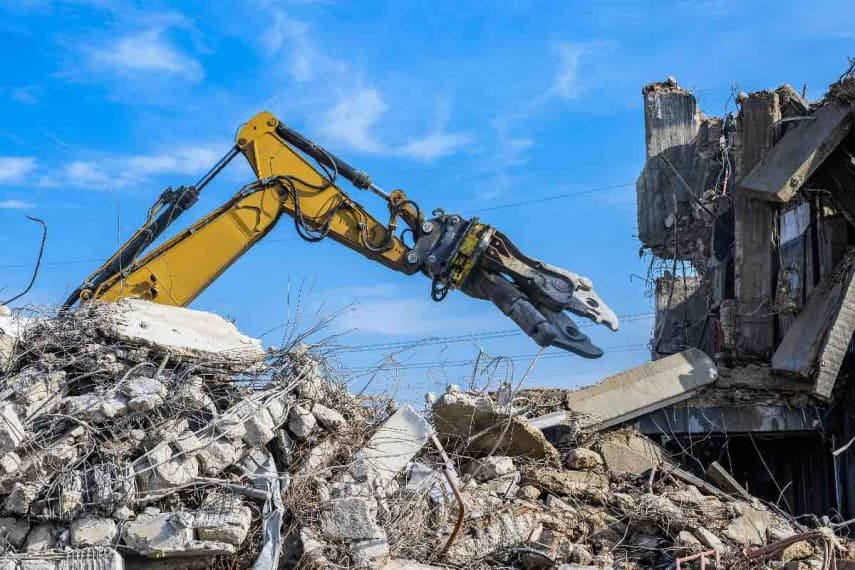 Mining and energy's new focus sets safety and efficiency goals for decommissioning, repurposing, and construction tasks. Decommissioning and repurposing of obsolete plant is becoming an Australasian and international issue as the mining and energy industries increasingly turn to new-age metals, minerals and materials required by emerging clean, green economies.
Behind the latest headlines – such as major financial institutions working on new plans to accelerate the closure of older coal-fired power plants in Asia – lie issues of enormous scale, with Australia, for example, being home to four of the 10 largest coal mines in the world, with the US and China two of its main production rivals. Add in the ecological issues surrounding oil exploration and extraction, and the decommissioning and repurposing task extends across the face of the Asia-Pacific on land and at sea.
"The oil plants, mines and power stations on which we depend for much of our energy are massive structures, with the working populations of whole towns. They are huge community assets and won't just disappear – but some will definitely change their shape and purpose," says Enerpac Asia-Pacific Marketing Manager, Tony Cooper. "Enerpac is a global brand that has a record of hydraulic innovation extending back more than a century and which it is now putting to work with new streams of decommissioning and repurposing technologies for its long-time customers in the mining, energy and construction sectors.
The current surge in new infrastructure development in Australasia – coupled with a rising wave of decommissionings and conversions of obsolete fossil fuel plant – presents an array of challenges for mine and energy plant operators.
In response, respected suppliers such as Enerpac, are assisting the industry to adapt most efficiently with tools that are safe and require fewer people to do time-consuming and hazardous tasks.
"Before heavy machinery does the heavy work, there are myriads of smaller jobs to prepare for the demolition to proceed safely. Afterwards, there is an equally large host of cleanup jobs to do before the construction tasks of repurposing begin.
"All of these demand lighter, ergonomic, powerful tools that reduce physical effort on the part of the operator, reduce the numbers required to do a job safely, and make it happen quickly and cleanly," says Mr Cooper.
Enerpac has responded to the challenge with a stream of technologies in recent years to fast-track this process of change. Often, they involve light and ergonomic higher-pressure hydraulics (up to 700 bar/10,000psi) that pack the greatest amount of power into the smallest and lightest tool.
Adhering to its "Goal Zero" safety objective, and clean, green workplaces, it has brought more energy-efficient pumps and decommissioning and recommissioning tools to the market, including tools that lighten the load while they increase the efficiency of operations such and bolting and unbolting, cutting, bending, forming, lifting and shifting.
Choose the right type of safe, energy-efficient tool
Decommissioning tasks frequently involve a multiplicity of tools purpose-built to curtail hazard, risk and delay potential that safety conscious and efficient companies and utilities cannot afford.
Cutting and fitting cables, and dealing with rebar and chains powerfully and safely, are among the most common jobs on decommissioning and repurposing sites.
Hydraulic drive-and-feed portable saws provide a safe and time-saving solution for a diverse range of tubular severance projects. Such band saw ranges deliver cost-effective solutions to cold cutting requirements in either surface or subsea situations.
The Enerpac diamond wire saws (for pipe diameters of 152-1524mm) are also ideal for quickly cutting through dissimilar materials. Bolt saws provide an effective solution for cutting seized flange bolts across a wide range of flange diameters.
"Ideally, purpose-designed decommissioning tools offer minimal spark risk compared with torching, grinding and sawing methods, while also producing minimal vibration to help prevent HAVS (Hand/Arm Vibration Syndrome), says Mr Cooper.
Join the battery tool revolution
Battery tools can be ideal for remote or confined space applications on land or at sea, where maximum force is needed for speed and safety. Conscious of their Duty of Care, companies are embracing new easy-to-handle hydraulic tools powered by battery technology, for example," says Mr Cooper, noting that this technology has reached a point where cordless alternatives (such as hydraulic pumps) can now offer the same performance as their corded counterparts.
"It is a bit like the increasing distances we are seeing that electric cars can travel – the same heavy duty increasingly efficient battery technology is wonderful in cordless tools, with a sufficient fuel reservoir to last whole shifts without needing to replace or recharge the battery. A bonus is that they can be used in locations where there's limited or no access to power, such as remote sites, inaccessible machinery or high places where dragging around a cord around is not an option. Not to mention obviating the risk of electrocution."
And keep it quiet too
Enerpac electric pumps, including the ZU4 Pro Series torque wrench pumps, are part of a broader Enerpac ZU4 pump family that not only runs quietly but also further enhances safety by cutting out repetitive setting tasks.
Lift and shift large plant with confidence
When the finer work of disconnecting and decommissioning is completed – and before demolition begins – there will likely be major items of useful plant that need to be lifted and shifted for repurposing. Generators, turbines, motors and other valuable plant, weighing tens and even hundreds of tons, may have spent decades firmly fixed to the floor. Low profile hydraulic spreaders, low-profile pancake jacks and load skates can be very useful to get the job started, particularly within interior spaces, to give access and positioning underneath the reluctant behemoth involved. Access can include setting up for lifts either from above (cranes) or from below (multiple high-stability, high safety synchronised lifting technologies using PLC control to ensure safety).
The heaviest lift and shifts can be assisted by anti-sway crane technologies or by plc-controlled synchronised lifting using multiple cylinders all regulated from one point. Examples include the Enerpac PLC-controlled Synchoist for cranes. Or, for the biggest jobs of thousands of tonnes sometimes, the Enerpac family of Synchlift technologies. These brilliant systems can be controlled from one point to hoist entire energy production platforms, for example, involving hundreds of cylinders. Or multiple cylinders on the biggest mining equipment, including draglines.
"Lifting gantries are another safety-friendly technology," says Mr Cooper, who has had more than 30 years engineering experience in the application of advanced hydraulic technologies. Lifting gantries are engineered to provide portable and easy-to-use solutions for machinery movers, plant relocation services, millwrights, and electronic equipment installers who need to move machines and equipment delicately, with controlled balance, in compact spaces.
The latest of this family of lifters – which extends over hundreds of tons – is the simply set up ML40 40-ton Mini-Lift Gantry. The gantry's compact size makes it ideal for moving equipment around new or old installations even without rails, including when moving machines or parts of machines either within the same building or to another building. Its short, collapsed height and narrow width means the ML40 Mini Lift Gantry can get into spaces that other equipment cannot, says Mr Cooper, adding that this gantry design can also rotate the load (up-end or down-turn) to move through the building. "The Enerpac SL-series and SBL-series gantries have long been proven by our partner lifting professionals," says Mr Cooper.
With the introduction of the new Enerpac ML40 Mini-Lift Hydraulic Gantry and its built-in synchronization and safety features, all an operator needs for nearly any 40-ton lifting job is a standard power supply and basic training, he says.
"We have been leading suppliers to proud mining, oil and energy industries for years and greatly respect the jobs our industries in these sectors do for our country and their local communities," says Mr Cooper. "The skills and assets of these industries have never been more valuable than now – providing the copper, lithium and multiple other minerals on which electrical and clean-green industries depend – while our reserves of metallurgical coal and anthracite coal for example, are irreplaceable."
"Some parts of the industry will continue in their currently successful form, while others will change. They are too great an asset globally to disappear – look at the steel industry alone – but many coal plants will face huge change as they adapt to new industrial purposes or – in the case of non-competitive plant – return to the environment and rehabilitation. Our objective – and the objective of all long-term suppliers to heavy industry – is to share the journey with them and make a strong contribution as they change into the future," says Mr Cooper.