No taxpayer handouts for Toyota, says PM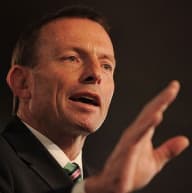 Toyota will only survive in Australia with creativity and dynamism – not with taxpayer handouts, says Prime Minister Tony Abbott.
Speaking in Victoria, Mr Abbott told news.com.au he hoped Toyota would stay in Australia.
"They have a very different business model to Holden. It's a business model that relies substantially on export and that's why I think we've got good prospects of keeping them," he said.
Mr Abbott is expected to unveil an auto industry assistance plan this week to assist workers hit by the impending closures of Ford and Holden operations in Australia in 2016 and 2017 respectively.
Unlike Ford and Holden, Toyota has been less impacted by a declining demand for locally built cars.
About 70 per cent of Toyota's production is exported.
But it remains at the mercy of the high dollar while its greater use of locally sourced components means it could be hit harder by any collapse in the component sector.
The company recently revealed it needs to reduce the cost of building each car in Australia by $3800 by 2018.
"I want to make clear that in the end it will be creativity, dynamism and the commitment to running a successful business on their part rather than taxpayer handouts," Mr Abbott said.
The Prime Minister and Victorian Premier Denis Napthine have both pledged to work with Toyota to ensure the wider industry remains viable.
"I deeply regret for the last three months we haven't been able to hold Holden," Mr Abbott said.
"The challenge now is to ensure, as far as we reasonably can, that Toyota stays and that is what we are working on."
Mr Abbott has already spoken with Mr Yasuda and the two are expected to have more talks in the weeks and months ahead.
Mr Yasuda has assured the government the company is doing everything it can to secure the future for its employees and their families.
In a recent statement Toyota said: "We will now work with our suppliers, key stakeholders and the government to determine our next steps and whether we can continue operating as the sole vehicle manufacturer in Australia."
Meanwhile, the 2017 Holden Commodore will be made in China in the wake of the company's decision to shut its Elizabeth car assembly line in South Australia.
Holden won the contract to design the car, which was then due to be built in Australia and China.
But now that Holden has decided to shut its Elizabeth car assembly line in 2017, China is poised to become the sole producer of the vehicle.
Sales of traditional sedans have been in free-fall for 10 years as Australians embrace SUVs in record numbers.
The shift away from traditional cars is so strong that there will be no wagon version of the new Commodore for the first time ever.