NO SUBSTITUTE FOR EXPERIENCE IN ABRASIVES BLASTING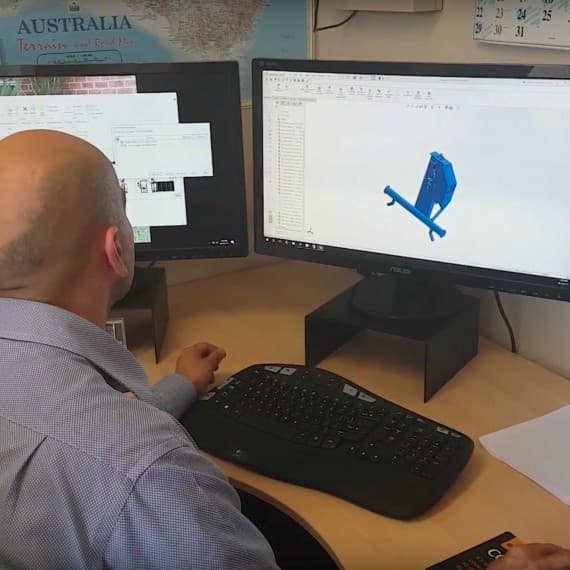 At first sight, the process of surface preparation through abrasive blasting might appear simple: create a rapid airflow through a nozzle, introduce your abrasive and point at the target. But while that may be fine for taking the paint off a set of wrought iron gates in preparation for renovation, once you try to apply that technique to valuable assets on an industrial scale you will find out very quickly that there is more to abrasive blasting than meets the eye.
Today it is possible to buy imported abrasive blasting machinery at some very attractive price points. But you do have to question exactly what you are getting for the money, says Ben Noble of Protoblast, Australia's most experienced designer and manufacturer of abrasive blasting equipment.
Protoblast has been around for more than 40 years, and its current workforce have more than a century's worth of experience in the business between them. What's more, they and their predecessors, starting with Ben Noble's grandfather John Gillies, have designed and developed some of the key processes that make up the state of the art in abrasive blasting.
From blasting equipment and blast chambers to dust collection and abrasive recovery, the company has devised, designed and built countless examples since it began in the business in 1975. And that experience counts.
There is no "one size fits all" philosophy here. Each application has its own demands, and while Protoblast does have a list of standard products, it is the customisation of these and their combination along with a thorough understanding of the customer requirements that leads to a satisfactory solution.
According to Ben Noble, his company's expertise is as much in demand as its products, with customers keen to draw on the industry experience of Protoblast, that has over 40 years seen the company fulfil projects as diverse as processing steel ingot moulds through to polyurethane water ski cores.
Protoblast Company has vast knowledge across all industries, from the mining, oil and gas industry to the transport industry, including shipping, rail and road freight applications to the building, general engineering and structural fabrication sector. Protoblast also has much experience with abrasive blasting machinery in aluminium smelters in the Middle East.
And that expertise is in demand overseas as well. The wholly Australian owned company has supplied equipment to New Zealand, Papua New Guinea, the USA and the Middle East.
Protoblast Company
1800 772 320
www.protoblast.com.au