No pit? No problem with Safetech's new Dock Lift
31-08-2010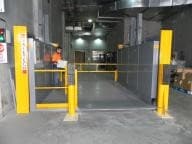 Dock lifts are the critical link between delivery vehicles and the workplace. 
A dock lift can have a substantial impact on productivity and safety.  
Material handling specialists Safetech Australia now supply a dock lift range that can be installed without a pit.
Safetech has supplied dock lifts to all major grocery and warehouse chains in Australia. The Melbourne-based company has dock lift designs for 1, 2, 4, 6 and 8 pallets, with outstanding boom gates and safety features.
Safetech is the only Australian company to offer Low Profile dock lifts that do not need to be set into a pit.
Available in 1, 2 and 4 tonne models they offer customers a unique advantage. 
Installation is simple with no concrete pit – and relocation is just as easy.
When choosing a dock lift ask yourself this:
Is the dock lift safe and compliant with legislation?
How easy and costly is it to maintain the lifts?
Are the lift controls intuitive and easy to use?
Can the dock lift be modified to suit each individual application?
Are the boom gates safe and robust?
Safetech's dock lifts have safety designed in as standard – not an option. 
Safety features include:
Operator safety barrier with controls
Fencing with kick plates, also available with sheeted in walls
Twin boom gates
Swing gates
Lockable control enclosures for added security
Vinyl safety skirts protection against scissor mechanism
Safety flaps or safety bar protection against platform descending
Safetech Australia
Ph: 1800 674 566