NO EASY FIX FOR QUADBIKE SAFETY LAWS
15-05-2018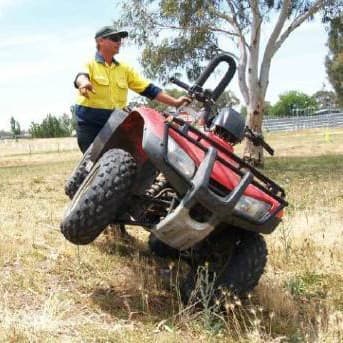 Motor industry leaders are in disagreement over manufacturing and operational rule changes to reduce the number of injuries and fatalities among users. 
Two motor manufacturing representatives on the national advisory body have quit the technical reference group that is examining the best way to improve the safety rating system for quad bikes. 
Chamber chief executive Tony Weber said he had no confidence in the process and accused the Australian Competition and Consumer Commission of "experimenting with the public" by proposing untested manufacturing changes. 
The ACCC is calling for an "objective review" of all existing safety data around quad bikes, and its proposal included crush protection devices, mandatory minimum performance standards, and a guarantee that all wheels can spin at different speeds.
"Manufacturers have not made any substantial changes to the design of quad bikes in the last 10 years," an ACCC spokesperson said. 
"While motor bikes, tractors, cars, utilities and trucks are subject to strict mandatory safety requirements, quad bikes are completely unregulated, even though quad bikes are suggested to be almost twice as lethal per kilometre of driving.
The disagreement continues a history of researchers and manufacturers failing to see eye-to-eye on the way forward on quad bike safety.
Mr Weber said the Chamber was not opposed to a star rating system if it were similar to the Australasian New Car Assessment Program (ANCAP) and "based on science and known history".
"The US went down this path in the 80s and 90s," he said. 
"What they did via law in 47 states is banned kids riding adult-sized quad bikes, mandated helmets, and there are no passengers allowed on single-seat ATVs. And there's been a 50 per cent reduction in the death toll. Why don't we copy the US experience… and keep our options open with engineering solutions?" 
SafeWork NSW says quad bikes have emerged as the leading cause of death and injury on Australian farms, with an average of 16 deaths nationally each year and 114 deaths total since 2011. Since 2015 there have been coronial inquests into quad bike deaths in NSW, Queensland and Tasmania.
The National Farmers Federation, Rural Doctors Association of Australia, and NSW Farmers have all called called for a five-star system, while the Australian Centre for Agricultural Health and Safety and Country Women's Association of Australia support the fitting of crush protection devices in appropriate circumstances.  
State government provides free training and helmets for those who complete its quad bike safety course, with the $2 million Quad Bike Safety Improvement Program providing rebates for protective devices, and statistically safer side-by-side vehicles.
NSW Labor has said it would ban under 16s from using quad bikes altogether. 
The Chamber, meanwhile, had previously accused the ACCC of bias because it has partially funded work done by the UNSW's Transport And Road Safety Unit that lead to the safety star-rating proposal. 
He said the Chamber would continue to work with government, and would even be flexible and open minded on manufacturing changes, just not as part of the advisory group. 
"This is a very important issue. Every death and injury is a very sad occurrence," he said.