NO CHALLENGE TOO GREAT FOR HARE & FORBES TEAM
09-02-2015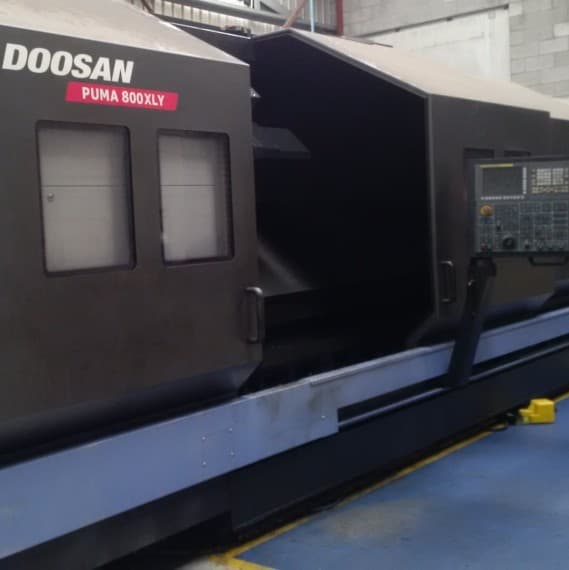 Arena Engineering is an Australian-owned family company that provides specialist engineering and design services for difficult to obtain components.
Based in Townsville in north Queensland, the business was established some 20 years ago and continues to grow from strength to strength.
The company has two facilities – a machine shop and a fitting and metal fabrication workshop – within a 1km radius.
The machine shop boasts a 5 Axis Simultaneous Multitasking Universal Centre with turning capabilities and a sliding head lathe and a range of other precision machining equipment.
As well as producing high quality components for a broad range of industries, Arena carries out repair work on worn or damaged components.
The company was fast reaching its capacity in terms of output, often using several different machines to complete single jobs.
So last year Arena Engineering management decided to invest in a new Doosan Puma 800XLY CNC Lathe from Hare & Forbes Machinery House to tackle the more challenging jobs.
"We previously had to outsource some of the bigger jobs," says Arena Engineering Managing Director Michael Arena. "We are now able to do everything in-house.
"It's so versatile. It has really increased our capabilities and helped the business to expand."
The Doosan Puma 800XLY CNC Lathe is used for everything from drilling accurate holes in metal plates through to making pins.
The machine features a 318 mm bar capacity (through spindle), with 5050mm between centres and 12-station turret. It also has an 1140 swing over bed and 200mm Y axis travel.
Mr Arena said he chose the machine after visiting an interstate trade show.
"Hare & Forbes had a range of machines on display and we were convinced it (the Doosan Puma 800XLY) could do the job, he says. "We are extremely happy with the end result."
The 30-tonne machine was sent by truck to Townsville from Hare & Forbes Machinery House in Brisbane.
"The trick was trying to get it into the workshop, Mr Arena recalls. "We had a couple of cranes and forklifts and used skids to push it into play."
Mr Arena says the Doosan Puma is now basically working full-time and has proved extremely reliable.
"The after sales service from Hare & Forbes has been outstanding," he says.
"Their representatives visit us religiously to make sure everything is OK.
"If we ever have a problem we try to fix it over the phone, or they will send someone.
"It was their service that really won us."
Mr Arena says the Doosan has not only cut costs, it has significantly reduced turnaround times.
Would he consider using Hare & Forbes for future machinery purchases?
"Most definitely," he says.
Arena Engineering
Ph: 07 4725 5016
Hare and Forbes Machinery House
Ph: 02 9890 9111