NMW 2016 NOW OPEN FOR BUSINESS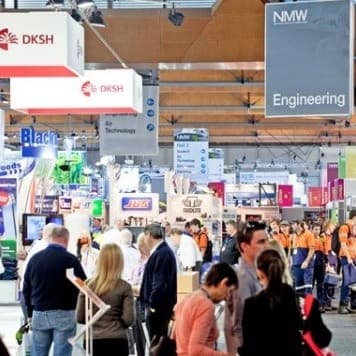 National Manufacturing Week 2016 opened in Sydney yesterday with more than 300 exhibitors and hundreds of new products and services on show.
Co-located with the Safety First Conference & Expo and Inside 3D Printing, NMW 2016 showcases the latest developments in design and automation across 12 Product Zones.
Highlights include new, game changing digital manufacturing technologies including OnShape, the world's only fully-in-the-cloud CAD system, launching the Australian operations of a platform that is used by teams in 150 countries around the world. 
Advances in robotics is another highlight with Impact Robotics offering Australia's first glimpse of Sawyer, the collaborative robot that can be easily programmed to work alongside humans.
And M.A.P. Services introduces for the first time in Australia the full range of Toshiba Machine robots.
NMW also provides a far-reaching showcase of additive technologies.
This includes Raymax Laser's expanded range and SLM Solutions' laser melting and 3D printing technologies, as well as new machines from both 3D Brink and Amaero Additive Manufacturing that can create some of the world's largest 3D printed parts.
Leading industry advisors are on-hand to discuss new opportunities for business.
The NSW Department of Industry has a team on hand to discuss avenues you can use to collaborate, innovate and open up new markets.
Professional services firm KPMG can assist companies who are looking to take up grants and incentives for innovation.
NMW also offers free access to its Seminar Theatre program, in which industry leaders will be sharing new ideas and opportunities for growth.
Key themes in the program include strategies for cutting production costs.
David Quayle, Managing Director of Apex Supply Chain Technologies, which has recently opened operations in Australia, will discuss the common areas of waste in manufacturing, and how supply chain efficiencies can cut production costs by up to a third. 
Similarly, Tim Mclean, MD, TMX Lean Solutions will outline how you can use Lean Management to create more value with fewer resources.
The Seminar Theatre will also deliver inspiration for innovation: with speakers including Redarc's Anthony Kittel and Nautitech's Alex Lester sharing their real-world stories of thriving in changing world markets.
Also, UTS' Professor of Design Innovation Dr Sam Bucolo and Western Sydney University's Dr Sasha Alexander are sharing their experiences of design innovation delivering competitive advantage.
It's not too late to register for free entry to this year's event, at nationalmanufacturingweek.com.au.
You can check out the full program and download the free app that allows you to tailor a personal program, and get reminders so that you don't miss key events.
But hurry, NMW which is held at Sydney Showground, Sydney Olympic Park, finishes tomorrow.