NMW 2014 Delivers Latest Technology and Ideas
16-05-2014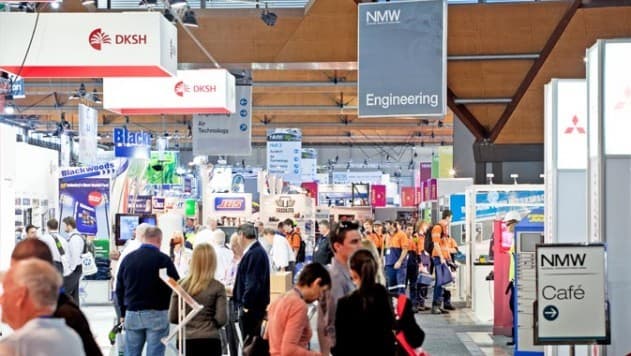 National Manufacturing Week (NMW) 2014, Australia's premier industry exhibition, attracted large crowds eager to preview the latest in new and innovative technologies, ideas and strategies.
The four-day show, which closed last Friday, featured more than 280 exhibiting companies.
And for the first time in Sydney, NMW incorporated the Ausplas plastics exhibition, Australia's largest show for the plastics industry.
This year's event at the Sydney Showground, Olympic Park, featured a record 14 Product Zones – with the addition of new areas dedicated to Additive Manufacturing, Digital Manufacturing and Advanced Materials.
The show also featured an R&D Hub with world-class speakers sharing secrets on the latest industry innovations.
Attendees on the opening day were given a warning by Australia's Chief Scientist, Professor Ian Chubb that "... just running fast enough isn't enough. To get ahead, you need to be running faster than your competitors."
Speaking as part of NMW 2014's Solutions Theatre speaker program, Professor Chubb pointed to examples of Australian manufacturers – such as the inventors of the Hills Hoist – who have reinvented themselves to keep at the forefront of industry developments, commenting that these examples show that Australia can "... innovate by instinct." 
To make the most of innovative capacity, the Professor urged manufacturers to achieve "a more energetic level of IP transfer from research providers to industry."
NMW included presentations from Prof Veena Sahajwalla from UNSW, outlining how the University's SMART team is finding new ways to boost manufacturing's sustainability by incorporating end-of-life materials into production processes.
For example, said Prof Sahajwalla, a partnership with OneSteel has seen tyres used as a source of carbon in steel production, a process that has liberated 1.8million tyres from landfill, while reducing the resource load in OneSteel's steel production process.
In the Digital Manufacturing hub, industry experts provided more immediate examples of the benefits of partnering.
Among speakers in this arena was strategic social design company ThreeFarm, which by using the Autodesk design platform, is helping businesses leverage design for more sustainable production.
Other presentations included Susie Tegen, Chief Executive, Australian Medical Technology speaking on prospects in medical technology.
And to further boost cross-industry contact, NMW will also hosted a speed networking session, bringing attendees together to discuss key manufacturing issues in an informal environment.
NMW Exhibition Director, Anthony Reed reported strong visitor numbers over the duration of the show. 
"NMW has become the 'must-attend' event because it brings together such a range of innovative products and services – from amazing 3D printing to robotics technologies – under one roof," he said.
"The result is an event that that is making a difference to industry's capacity to manufacture a vibrant future."